Instant Pot Chicken Teriyaki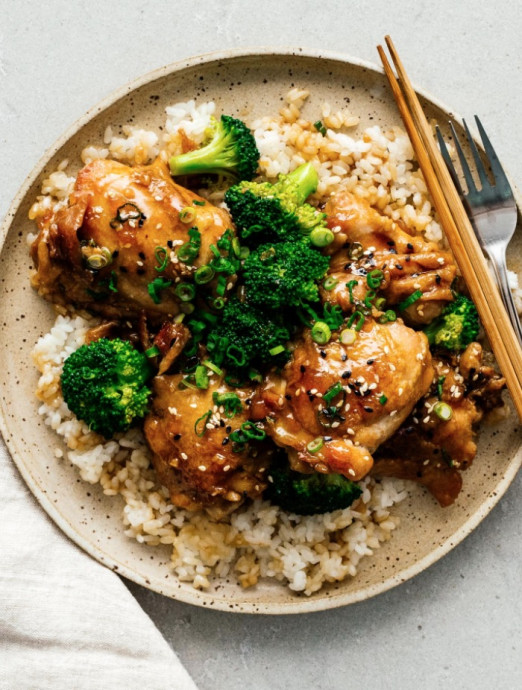 When you're hangry and craving an easy simple meal, this Instant Pot teriyaki chicken recipe is here for you. Just 5 minutes, a handful of ingredients that you (hopefully) have in your pantry, and you're good to go.
Teriyaki chicken is one of my faves! It might not be particularly authentic – you'll be hard pressed to find teriyaki chicken in Japan, but there's just something about that sweet and savory sauce on chicken that gets me every time. I've tried this recipe both with and without browning, and while there is a bit more flavor if you take the time to brown, I find it strictly not necessary. Plus, the fact that the chicken is covered in sauce means that the skin doesn't stay crispy anyway, so if you're in a hurry, just pop everything into your instant pot, turn it on, make a pot of rice, and you'll be eating in the time it takes you to get into your comfy home clothes.
Teriyaki chicken is a cooking technique used in Japanese food – foods are brushed with a glaze of soy sauce, mirin, and sugar, then either broiled or grilled. Traditional teriyaki chicken isn't as saucy as we know it in North America, it's more of a glaze. Teriyaki chicken as we know it is a sweet and saucy chicken dish that's served with fluffy rice. It's quick, easy, and flavorful and probably one of the most popular chicken recipes out there. Lots of people go out and buy bottled teriyaki sauce, but it's incredibly easy to make it at home!
Ingredients:
2 cloves garlic crushed
1/4 cup soy sauce
1/4 cup mirin
1/4 cup sake
2 tbsp sugar
6 chicken thighs bone in, skin on
1.5 tbsp cornstarch
sliced green onions and sesame seeds if desired