Keto Mozzarella Sticks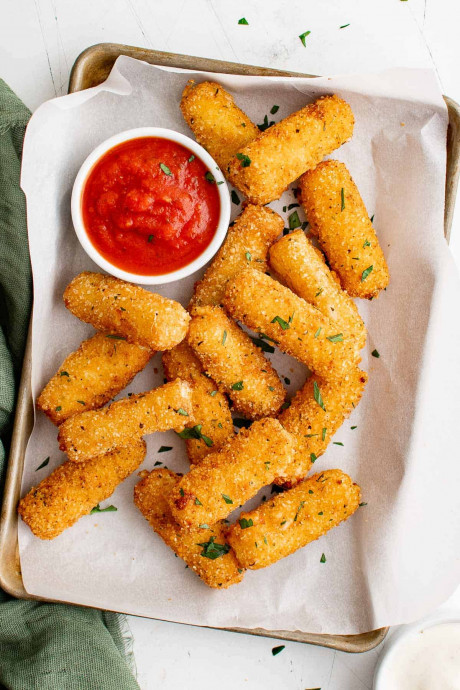 These Keto Mozzarella Sticks are perfectly crispy and crunchy on the outside, while being melty and delicious on the inside. The keto breading is seasoned with onion, garlic, and Italian seasoning, making it the perfect complement to the melty mozzarella cheese. I like to dip these in homemade marinara sauce and ranch dressing. They are the perfect kid-friendly low-carb appetizer recipe.
This Keto Mozzarella Stick recipe is from my book Craveable Keto. It is an easy to make, delicious, family friendly recipe. They taste just like the cheese sticks you would find in the appetizer section of the menu at your favorite restaurant, but in a gluten-free version, without all the carbs.
Ingredients:
2 tablespoons coconut flour
2 large eggs, whisked
1 batch Savory Breading Mix
8 mozzarella string cheese sticks, halved crosswise
Cooking oil, such as avocado oil or tallow
Marinara Sauce and Ranch Dressing, for serving
½ cup finely grated Parmesan cheese
½ cup blanched almond flour (I use this brand)
1 teaspoon dried Italian seasoning
1 teaspoon garlic powder
1 teaspoon onion powder
½ teaspoon sea salt