Spicy Shrimp and Zucchini Noodles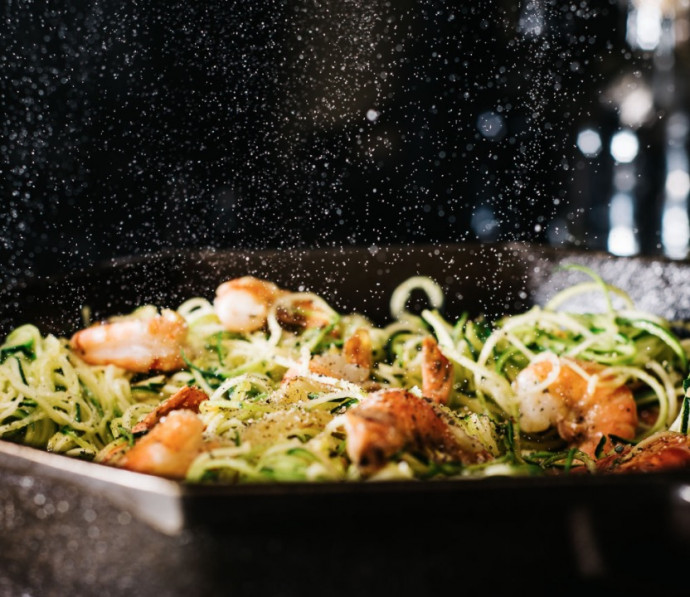 I find that the trick with zucchini is to not overcook it. Zucchinis are naturally pretty watery and if you cook them down too much, they turn into watery mush. This applies to all zucchini, but especially so with zucchini noodles. They really don't need too much heat, all you want to do is soften them a bit. Zucchini noodles work awesome in this recipe (I made my zucchini noodles with this spiralizer), but this recipe works with pasta too, if you're carb-loading.
The original recipe called for linguine and squid, but I swapped both out for zoodles and shrimp. There's some quickly caramelized fennel, thin slices of lemon, lots of crushed red pepper, and a punchy, herby cilantro and fennel frond garnish. It was the perfect indulgent, yet light summer evening meal. I'm loving the late summer evenings and long lingering dinners that go along with.
Ingredients:
2 tablespoons neutral oil, divided
1/2 lb large shrimp, deveined and peeled if desired
1 medium fennel bulb, thinly sliced lengthwise, fronds saved
2 cloves garlic, thinly sliced
1/2 teaspoon crushed red pepper flakes, or more to taste
1/2 lemon, seeds removed, very thinly sliced, divided
2 small zucchinis, spiralized using the smallest blade
1/2 cup roughly chopped cilantro
olive oil, to taste
salt and freshly ground pepper, to taste