Banana Nut No-Bake Snack Bars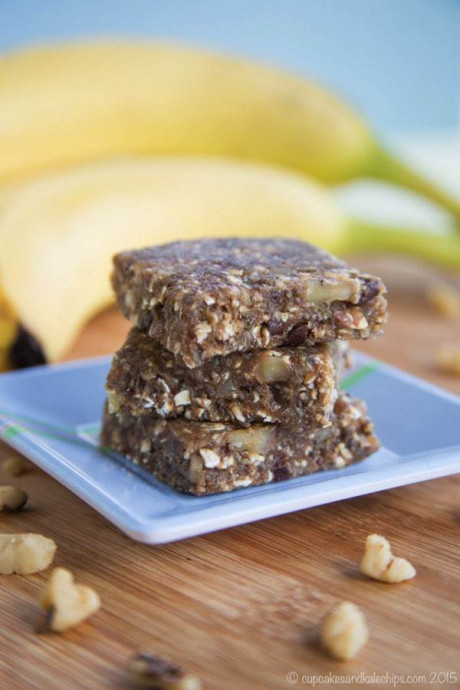 No-Bake Banana Energy Bars have the sweet flavor and crunch of a classic banana nut bread recipe in perfectly portable no-bake snacks. They are packed with superfoods to make them nutritious, but also mini chocolate chips to make them irresistible. Whether on the way to the bus stop in the morning or out of their lunch boxes, the kids will love to munch on these healthy snack bars!
These snack bars are a super sweet, super yummy, superfood-packed way to get the flavor of banana bread in a portable little healthy bite. And they are easily made gluten free and vegan, if you need to or want to.
My kids have been polishing these guys off even for dessert! I guess the little bit of chocolate I put in there doesn't hurt, but you can certainly leave out the mini chips. But, antioxidants! And, well, chocolate! A little won't hurt, especially mixed in with fruit and oats and flax seeds and chia seeds. There's certainly plenty of nutrition to balance a couple of chips.
Ingredients:
1 very ripe banana
1 cup pitted dates
1 cup uncooked rolled oats gluten free, if needed
¼ cup ground flax seed or flax meal
2 Tablespoons chia seeds
½ teaspoon vanilla
½ teaspoon cinnamon
¼ teaspoon nutmeg
¼ teaspoon Kosher salt
½ cup chopped walnuts
¼ cup mini chocolate chips vegan, if needed, optional