Gluten Free Cheesy Vegetarian Breakfast Bake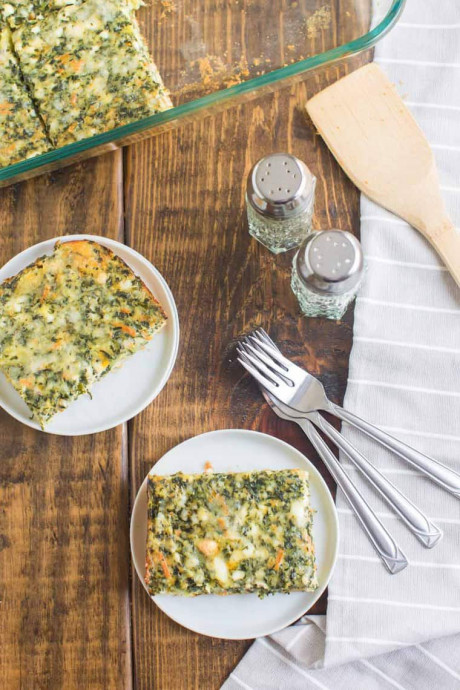 This veggie breakfast bake is a perfect addition to a holiday breakfast or brunch that is a change from the usual egg casserole.
While it does still have some eggs for protein, it's also loaded with plenty of spinach, zucchini, and carrots. Plus there is cottage cheese and cheddar cheese to make it both creamy and cheesy.
But instead of just eggs or bread or potatoes, it is all spread on top of a soft and moist biscuit-like crust. Yes, you heard that right. It's a gluten free casserole recipe that is tender and melts in your mouth.
This vegetable breakfast bake is cheesy, and creamy, and tasty! So much flavor and texture are packed into each bite. They would be perfect for a holiday or weekend breakfast or brunch.
Ingredients:
1 teaspoon olive oil
one medium sweet onion or half of a large one, finely chopped (set aside 1/4 cup for the crust)
1 cup shredded carrots
1 medium zucchini, quartered lengthwise, and slide about 1/4 in. thick
Two 5 oz. packages of baby spinach, chopped into small pieces
salt and pepper, to taste
1 1/2 cups cottage cheese
3/4 c shredded sharp cheddar cheese
1/2 cup plus 2 Tablespoons grated Parmesan cheese
2 egg whites
1 egg
1 teaspoon dry mustard
For the crust
1 cup Gluten Free Bisquick
2 egg whites
1 egg
1/4 cup milk
1/4 reserved chopped onion from the filling