Low Carb Sesame Ginger Noodles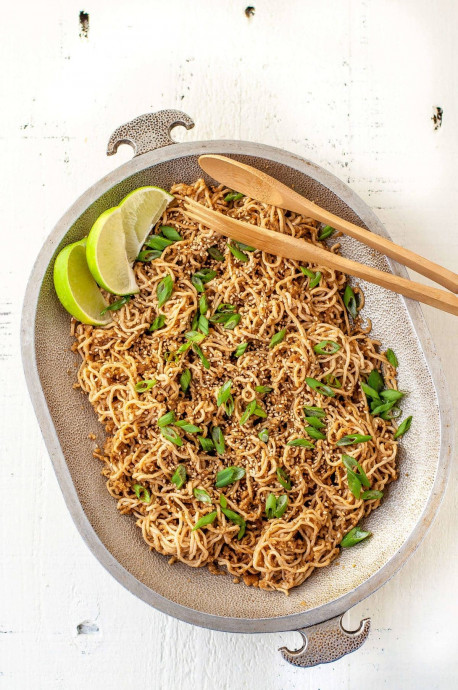 Quick and easy, Asian inspired Low Carb Sesame Ginger Noodles - Best of all, these are gluten free, sugar free, vegetarian, and keto friendly. These Sesame Ginger Noodles are one of my favorite side dishes to serve with just about any Asian inspired main dish. I've included some of my favorite recipes below. But I'll let you in on a secret ... I love to make a batch of these noodles and mix them into my Pork Egg Roll in a Bowl Recipe. DELISH! Try it and I promise you won't regret it.
While this is an egg free recipe, they are also really good with some light and fluffy scrambled eggs mixed in. Looking to make this vegetarian noodle recipe a full meal deal? Just mix in your favorite protein - beef, pork, chicken, and shrimp are all excellent choices.
Ingredients:
(4) 8-ounce packs spaghetti style shirataki noodles (I use this brand)
1 cup tahini, almond butter, or natural peanut butter
¼ cup gluten free soy sauce
1 ½ tablespoons unseasoned rice vinegar
1 tablespoon fresh lime juice
3 tablespoons golden monk fruit (I use this brand) code PEACE for 20% off
2 teaspoons ground ginger
2 cloves garlic, minced
4 green onions, sliced on a bias
2 tablespoons toasted sesame seeds
fresh lime wedges, for serving