Shepherd's Pie with Roasted Garlic Cream Cheese Mashed Potatoes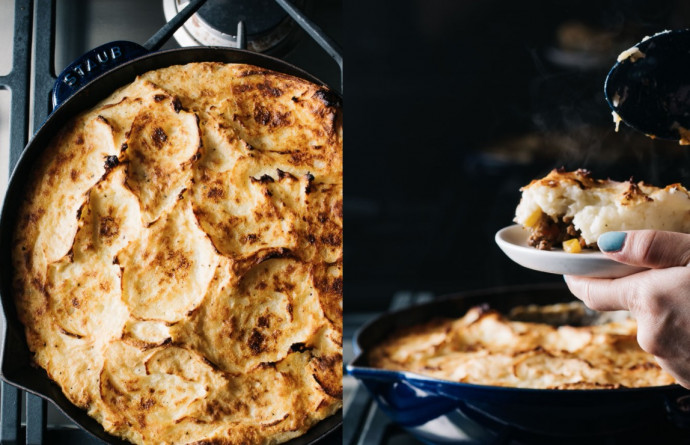 Is there anything more delicious than shepherd's pie? Savory meat swimming in gravy, studded with tender vegetables topped off with smooth and fluffy mashed potatoes? Dream meal right there. Shepherd's pie is one of my ultimate comfort foods. I think I could eat it for every meal straight for a week and not be sick of it. Pie day is coming up so I made this guy to celebrate pie of the shepherd's variety.
As a holdover from my childhood days, I like a shepherd's pie with a high potato to meat ratio: I'm talking three-quarters potato to one-quarter meat filling. But, since not everyone in this household is an extreme potato lover (ahem, Mike), I eased it up a bit to more of a two-thirds potato, one-third meat situation. And then I proceeded to scrape off extra potato tops for myself.
It was hard not to – I made a roasted garlic cream cheese mash and I think they were what totally made this whole pie.
Ingredients:
3 large russet potatoes, peeled and quartered
3-4 cloves roasted garlic*
2 tablespoons butter, at room temp
2 tablespoons cream cheese, at room temp
1/4-1/2 cup milk
salt and freshly ground pepper
oil
1 onion, diced
2 small carrots, peeled and diced
2 cloves garlic, minced
1 lb lean ground beef
1/4 cup beef broth (you can sub water, if desired)
2 teaspoons tomato paste
1/2 teaspoon thyme
1/2 cup corn
1/2 cup frozen peas
salt and freshly ground pepper
1-2 tablespoon butter, if desired