Skor Bars with Ritz Crackers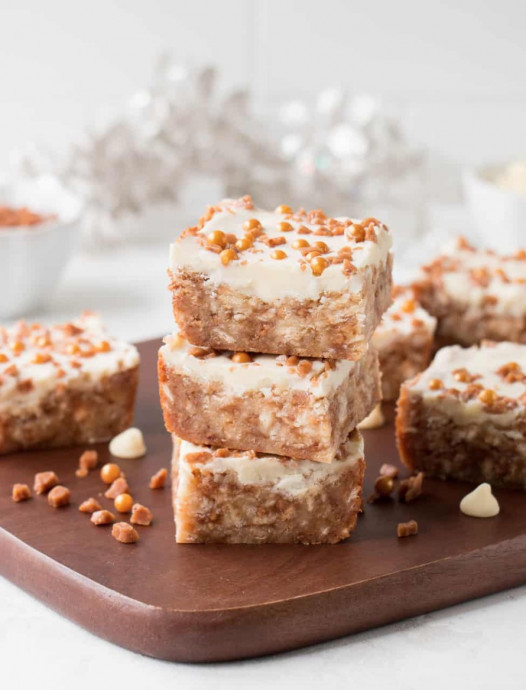 These Skor bars (aka White Trash bars) are elevated with the addition of luxurious white chocolate on top. These bars are the perfect combination of sweet and salty, crunchy and chewy, and ultra-creamy with the taste of toffee.
Skor bars with Ritz crackers are dessert bars made with crushed Ritz crackers mixed with Skor toffee bits and sweetened condensed milk. They are usually topped with some sort of white frosting, typically cream cheese or buttercream.
Why this recipe is so great:
Only 4 ingredients – Just 4 simple ingredients and a quick bake in the oven is all you need to make this super delicious treat!
Scrumptiously good – These bars are rich, buttery, and sweet. You would never think they were made with savory crackers. The sweetened condensed milk and toffee dominate the saltiness of the crackers, leaving only a hint of it behind. The texture is chewy with a little bit of crunch from the Skor bits. Then it finishes with a creamy vanilla taste of white chocolate that is just divine.
Perfect for the holidays – This quick and easy-to-make treat is perfect for the busy holiday season. Top with some additional red and green or gold sprinkles to make them extra festive. Once it's completely cooled and the chocolate has set, cut into squares. Place the bars in a freezer-friendly container or ziplock bag and store them in the freezer for up to 3 months.
Ingredients:
1 box (200g) Ritz crackers
1 bag (200g) Skor toffee bits, divided
1 can (300ml) sweetened condensed milk
1 cup (170g) white chocolate chips