Mushroom and Brie Soup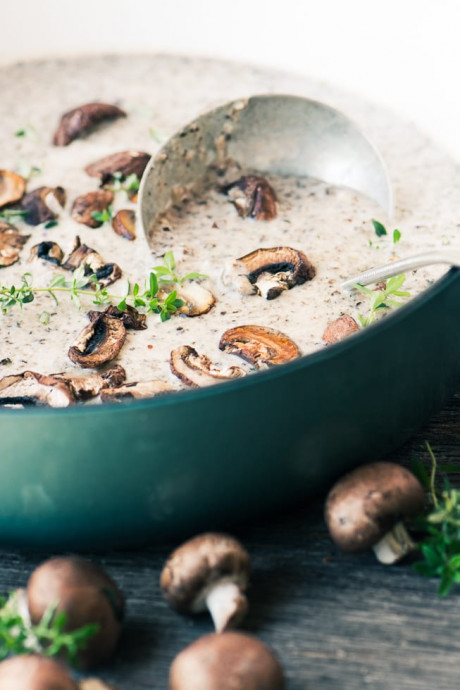 Mushroom and Brie Soup is a classic creamy mushroom soup kicked up a notch with lots of luxurious Brie cheese. It's perfect for a cozy dinner on the couch or a special first course for holiday meal.
This delicious mushroom and Brie soup was inspired by my supermarket hot bar!
The other night I was so wiped out by the end of the day that I couldn't begin to think about dinner. My husband sweetly went out and brought home the most delicious mushroom and Brie soup from the hot bar at the supermarket (who knew?) ~ I've never had it before and it was a wonderful surprise. The empty take out container had barely hit the trash when I was already devising this recipe to share with you.
Canned cream of mushroom soup is a staple so many of us grew up with…you'll be glad to hear that this homemade creamy mushroom soup bears no resemblance whatsoever to that stuff .
This thick soup could double as a delicious casserole base, too, making the cans obsolete forever.
Ingredients:
1 1/2 pounds cremini mushrooms use any variety you like
2 Tbsp unsalted butter
2-3 large shallots peeled and finely diced
3 cloves garlic finely chopped
2 Tbsp flour
1/2 cup Marsala wine
2 cups chicken stock or veggie stock
2 Tbsp fresh thyme leaves
salt and freshly cracked black pepper to taste
1/2 cup heavy cream or half and half
6 ounces Brie cheese rind removed, cut in chunks