Slow Cooked Shredded Beef Ragu Pasta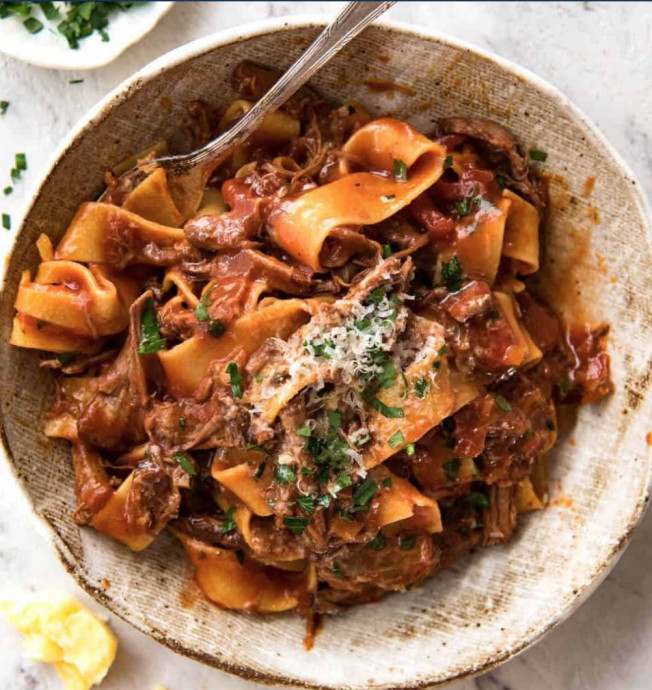 A budget cut of beef, simple pantry ingredients, a bit of patience and pappardelle pasta. This Slow Cooked Shredded Beef Ragu Sauce with Pappardelle may be the king of all pastas. It is hands down one of my all time favourite pastas ever!
The question of what type of pasta to serve with different pasta sauces is a question that I get asked quite regularly. Generally, most pasta sauces will pair perfectly well with most common pasta types, like spaghetti, fettuccine, linguine, penne / ziti, macaroni, shells etc.
And while this Slow Cooked Shredded Beef Ragu Sauce will be great with any type of pasta, the best pasta for a rich sauce like this ragu is pappardelle. This wide, flat pasta is especially great for this recipe because the shredded beef clings to the wide strands.
Ingredients:
RAGU
1.2kg / 2.5 lb chuck beef or other slow cooking beef cut, cut into equal 4 pieces (Note 1)
1 tbsp salt
Black pepper
3 tbsp olive oil , separated
3 cloves garlic , minced
1 onion , diced
1 cup carrots , diced (Note 2)
1 cup celery , diced (Note 2)
800g / 28oz crushed canned tomatoes
3 tbsp tomato paste
2 beef bouillon cubes , crumbled (Note 3)
1 cup / 250ml red wine , full bodied (like merlot, cabernet sauvignon), or sub with beef broth/stock
1 1/2 cups / 375 ml water (Note 3)
3/4 tsp dried thyme or 3 sprigs fresh thyme
3 dried bay leaves
TO SERVE (NOT ALL SAUCE IS USED)
1 lb /500g dried pappardelle , or other pasta of choice (Note 4)
Freshly grated parmesan cheese or parmigiano reggiano
Fresh parsley , finely chopped (optional)