Pumpkin Pie Greek Yogurt Parfaits Made with Leftover Pumpkin Pie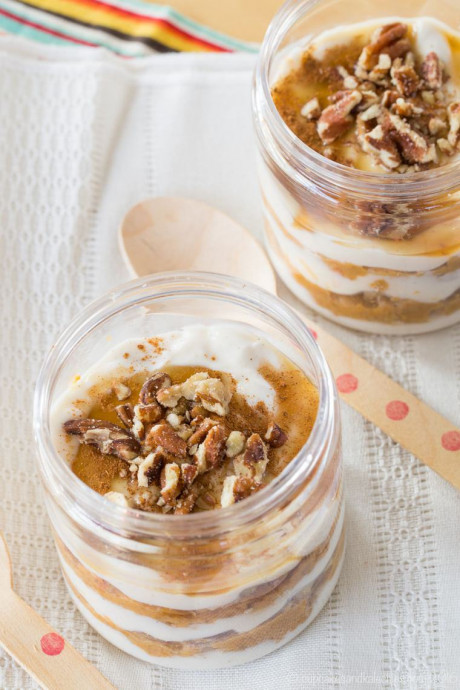 Pumpkin Pie Greek Yogurt Parfaits can at least make you feel a little better about having pie for breakfast. Or they make a healthier dessert than just having another slice of pie loaded with whipped cream. And it can be fancy enough to serve to guests if you need to stretch that last bit of pumpkin pie to feed a few extra people. Try making little dessert parfaits in mini dessert cups with spoons.
I like to use Greek yogurt for the added protein and thick, creamy texture. But regular yogurt is fine too. And everything fro nonfat to low fat to whole milk yogurt works fine depending on what you prefer.
Here are some flavor choices:
Vanilla yogurt adds a nice balance to the spices of the pumpkin pie.
Honey or maple-flavored yogurt gives it a rich-flavored sweetness
Plain can actually tone down the sweetness, especially if you want to have it for breakfast. If plain is all you have and you find it not sweet enough, you can always add a bit more maple syrup, if needed.
Seasonal flavors like Apple Cinnamon or Pumpkin would also be a fun option.
Ingredients:
For each parfait:
6 Tablespoons plain Greek yogurt
1/2 cup pumpkin pie filling from your leftover pumpkin pie
1 1/2 tablespoons pecans or other nuts, crushed graham crackers, pie crust, or granola
Maple syrup and cinnamon if desired