Easy Roast Beef and Brie Puff Pastry Breakfast Tarts Recipe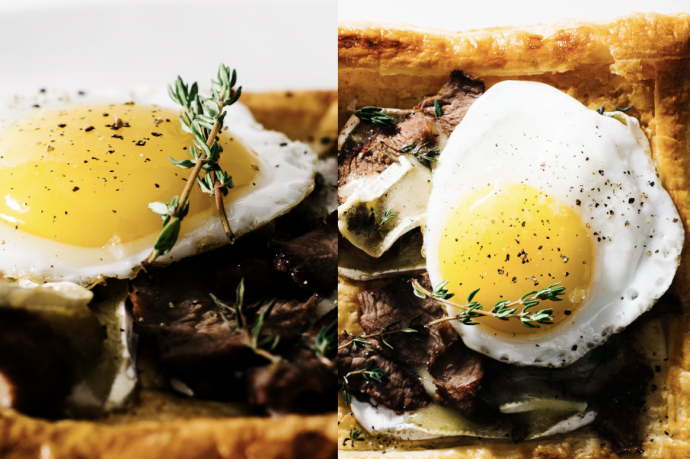 What's even cozier are these super easy breakfast tarts. The night before, defrost your puff pastry in the fridge and make sure you have some leftover meat on hand. I used roast beef (or as I like to call it, roast beast!), but you can feel free to use whatever you have. Turkey would be awesome and of course bacon is always a favorite, but really, who the heck has leftover bacon?! Of course, you could fry up some bacon, but that would involve another step and in the mornings the fewer steps the better.
When you wake up, cut the puff into pieces, light score and par bake, top with toppings, and then pop the tarts back into the oven to melt the cheese. While all that's going on you can fry up some eggs or make coffee. Or maybe just look desperately at the person who makes your coffee for you. Whatever works!
Ingredients:
12- 18 slices thinly sliced roast beef or protein of choice
1 small wheel brie cheese, sliced thinly
sprigs of fresh thyme
1 sheet puff, thawed
mustard, to taste
1 egg, lightly beaten with 1 tablespoon of water
salt and freshly ground pepper
eggs to serve, if desired