Sheet Pan Sausage And Veggies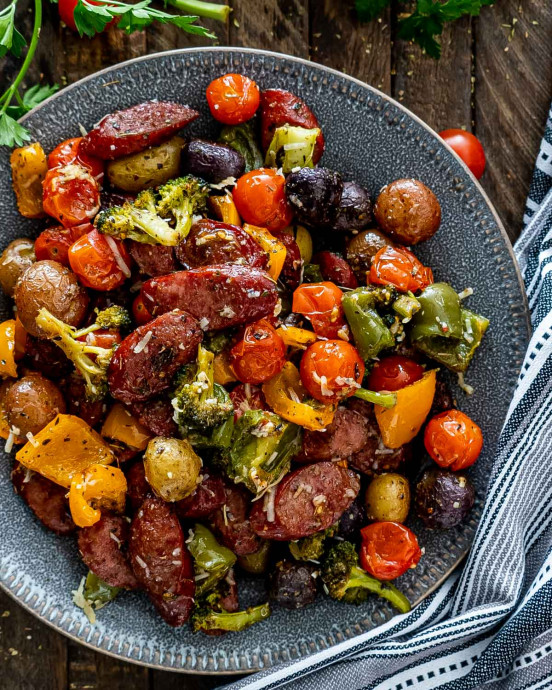 This one-pan, incredibly simple to make, Sheet Pan Sausage And Veggies makes this the absolute perfect meal for any weekday dinner. With virtually no mess, this quick and nutritious recipe is a family favorite.
Sheet pan meals have become a favorite of mine because they are so easy and use only one pan. During the week, life can be hectic and it's great to be able to throw everything together, bake and eat. I like the fact that using some parchment paper on your sheet pan will help with the clean up as well. That's just a bonus on top of this tremendously easy dish.
For a completely versatile recipe. You can use your favorite veggies or sausage. This is also a fantastic way to get the kids to eat a very healthy and nutritious meal without feeling like they have plain old veggies. Lots of seasonings are used to amp up the flavor, along with some great smoked sausage, and if you choose to add fresh grated parmesan, that adds another layer of greatness.
Ingredients:
2 cups baby potatoes washed and patted dry
1 medium broccoli head cut into florets
2 medium bell peppers any color, cut into 1 inch pieces
2 cups cherry tomatoes
1 pound smoked sausage chicken, turkey, pork, or beef sliced into ¼-inch slices
¼ cup olive oil
1 tablespoon Italian seasoning
1 teaspoon garlic powder
½ teaspoon salt or to taste
½ teaspoon pepper or to taste
¼ cup Parmesan cheese grated, optional