Reese's Peanut Butter Cup Poke Cake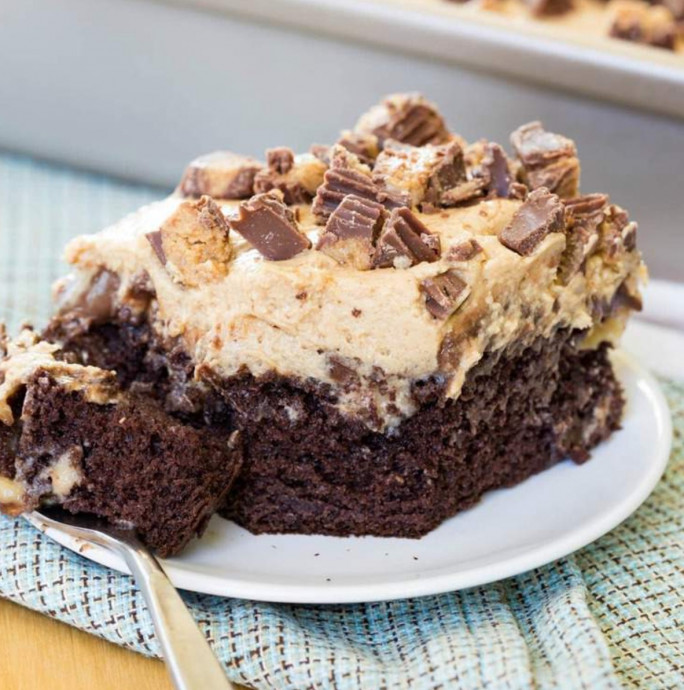 Reese's Poke Cake is the ultimate easy dessert recipe for the serious peanut butter cups lovers. The decadent combination comes together in this chocolate peanut butter sheet cake that is perfect to bring to potlucks and parties.
Chocolate cake is slathered with peanut butter pudding, chocolate frosting, and peanut butter whipped topping, then sprinkled with Reese's Peanut Butter Cups. This Reeses poke cake recipe is the ultimate chocolate and peanut butter dessert. It is pure heaven!
I brought it to a party and it was a hit with the entire crowd! And when you need to make dessert for a big group of people, you need something easy!
I love to bake from scratch. I really do. Christmas cookies, strawberries and cream cake, and even pumpkin cheesecake flourless chocolate cake roll – making all of these decadent creations brings me great joy.
So yes, while I do think there is something to be said for breaking out the flour, butter, and sugar, I am still truly a fan of a box of cake mix.
Ingredients:
15.25 oz chocolate cake mix plus ingredients to prepare the cake
3.4 oz vanilla instant pudding mix
2 cups cold milk
1 1/2 cups creamy peanut butter, divided
16 oz chocolate frosting
8 oz frozen whipped topping, thawed
25 mini Peanut Butter Cups unwrapped and roughly chopped