Cheesy Loaded Green Bean Casserole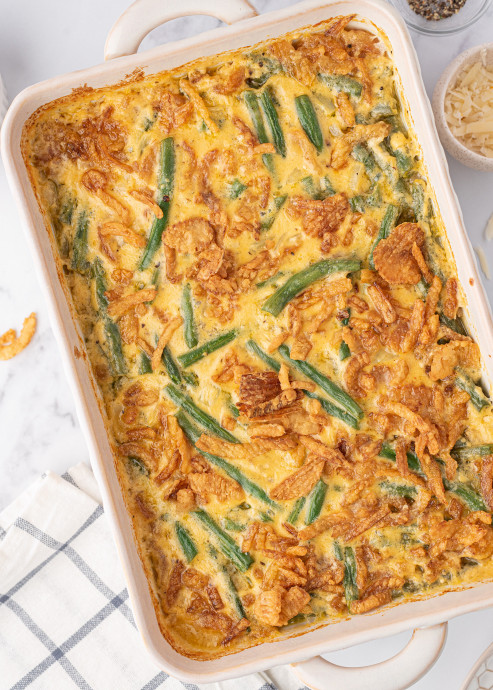 This recipe for Cheesy Loaded Green Bean Casserole is one of the best! It's super creamy and loaded with cheddar & parmesan cheese making it the ultimate Holiday Side dish or a great addition to any hearty meal!
Can you even say it's a holiday meal if you don't have green bean casserole on the table? This is a bit of a mixture of classic green bean casserole mixed with a heavy dose of cheese. There's no such thing as having too much cheese, right?
Using fresh green beans in this holiday casserole dish really gives a great texture and taste. The more veggies that you can load up, the better! This is the perfect recipe to share with all your family and friends.
Since this recipe has two different types of cheeses, you're certain to have an awesome test of cheese with each and every bite. Don't forget to add the crunchy toppings of French fried onions!
Ingredients:
1 lb fresh green beans ends trimmed and cut into halves
2 Tbsp unsalted butter
1/2 medium yellow onion diced
1 tsp minced garlic
2 Tbsp all-pupose flour
1 cup milk
1 cup chicken broth
1/2 tsp
1 tsp ground black pepper
salt to taste
1 cup sharp cheddar cheese grated
1/4 cup parmesan cheese grated
1 cup French fried onions