Crockpot Brunswick Stew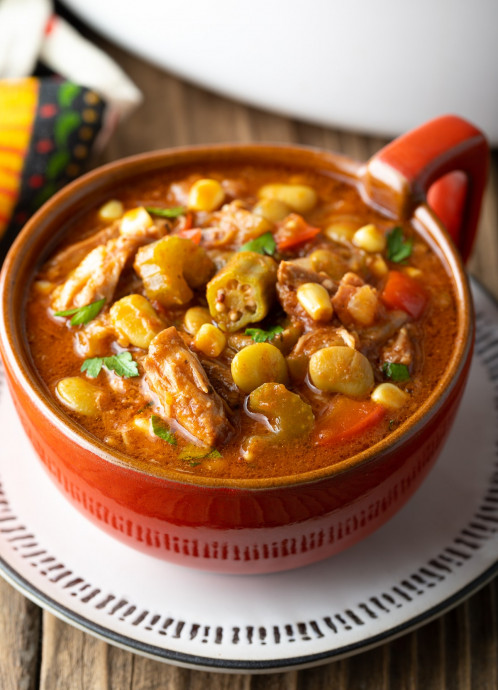 This simple crock pot version is the Best Brunswick Stew we've ever tasted… And it's SO easy to make! Brunswick stew is a dish that is hard to describe. Smoky. Hearty. Southern. Those are the three most prominent qualities we can think of. The smoky flavors come from the original method of using leftover smoked meats in the recipe. Yet nowadays, we add barbeque sauce, and liquid smoke to create smokiness at home. You don't need a smoker to capture all these flavors.
This stew's heartiness comes from the numerous chunky ingredients that create thickness and texture. The "southern-ness" of our Best Brunswick Recipe comes from the mere fact that it was created in the South… It also takes into account the array of different Southern ingredients found in Brunswick Stew, such as pork, lima beans, corn, and okra.All in all, Classic Brunswick Stew is bold and zesty, rich and meaty, and packed with comfort. We love this recipe, and think it's the best, because it captures the essence of classic Brunswick Stew found in southern barbecue joints, yet it is easily made in the crockpot!
Ingredients:
2 tablespoons butter
1 large sweet onion, peeled and chopped
3 celery stalks chopped
4-6 cloves garlic minced
3 pounds pork roast, fat trimmed
1 bell pepper, seeded and chopped, any color (I used red)
14 ounces frozen baby lima beans
14 ounces frozen white corn (or white and yellow mixed)
28 ounces crushed tomato
½ cup bbq sauce
3 tablespoons worcestershire sauce
1 ½ tablespoons brown mustard
1-2 tablespoons hot sauce
½ teaspoon liquid smoke
1 bay leaf
8 ounces frozen okra
Salt and pepper