Chewy Trail Mix Granola Bars Recipe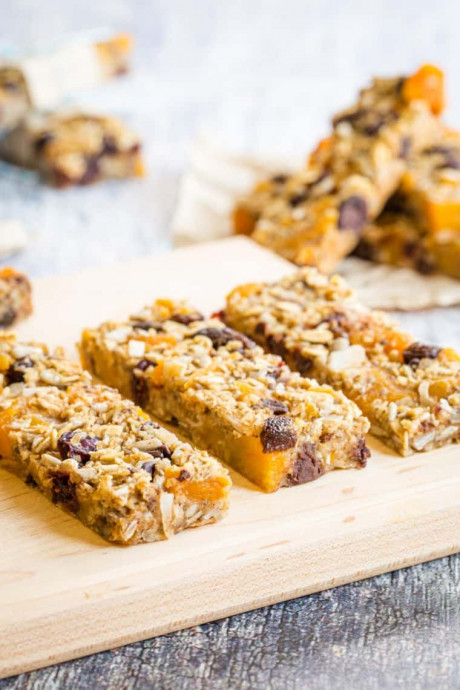 Chewy Trail Mix Granola Bars are perfect for lunchboxes, trips to the park, long car rides, or to power the kids (and yourself) through busy days. These healthy gluten free snacks have dried fruit, whole grains, seeds, and even a little chocolate for good measure. But this easy recipe is also nut free and dairy free, making it an allergy-friendly treat to pack!
Chewy Trail Mix Granola Bars have been satisfying my boys' munchies lately. Sweet and chewy with just a bit of crunch, and a touch of chocolate to make them happy campers, but packed full of wholesome ingredients. They are gluten free snacks that kids and parents love!
And speaking of campers, these bars have no nuts or peanuts or peanut butter, so you can pack them for camp or school, or a trip to the playground! These bars can be kept at room temperature for a short time, but since they are moist, you'll want to keep them in the refrigerator to keep them from getting moldy too quickly. They will last for about a week.
Ingredients:
3 cups old fashioned oats (certified gluten free, if necessary)
2 Tablespoons honey (can use agave syrup for vegan)
½ cup raw sunflower seeds
½ cup raw pumpkin seeds (also called pepitas)
2 Tablespoons chia seeds
1 cup dried apricots, chopped
½ cup raisins
½ cup dried cranberries
½ cup semi sweet chocolate chips (dairy free, if desired)
1 teaspoon cinnamon
1 teaspoon vanilla extract
¼ teaspoon salt
2 cups water