Easy Homemade Beef Stew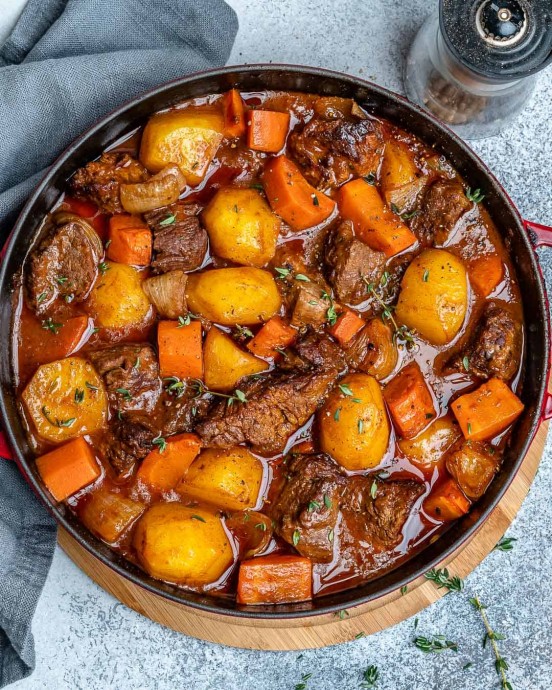 This Classic Homemade Beef Stew recipe is so easy to make and so heavenly. A one-pot meal that's hearty, flavorful and loaded with tender beef morsels, potatoes, and carrots. Cooked in a rich and savory sauce, this beef stew recipe is comfort food at its best.
This simple and healthy beef stew recipe can easily be made in an instant pot, slow cooker, in the oven, or on a stovetop. We will be showing you the different ways to cook up this delicious homemade beef stew so you can make it whichever way is more convenient. Enjoy tender, melt in your mouth beef chunks with soft comforting potatoes and carrots. We assure you that this will be the best beef stew recipe you will ever have!
There are a few ways to cook beef stew. It will depend on your preferred method. You can cook on your stovetop, in the oven, in your crockpot or slow cooker, or in an instant pot. We have discussed all the methods above to show you how to cook your beef stew.
Here are some great side options to try with beef stew: cauliflower rice, quinoa, brown or basmati rice, corn bread, mashed potatoes, salads and steamed veggies.
Ingredients:
2 lbs Beef Chuck Roast cut into 2-inch chunks, excess fat removed
1 Tsp Kosher Salt
½ Tsp Coarsely Ground Black Pepper
2 Tbsp Gluten-free All-Purpose Flour or Whole Wheat for non-gluten
2 Tbsp Olive Oil
½ Yellow Onion Chopped Large
4 Garlic Cloves minced
1 Large Carrot or two small-medium, cut into 2-inch chunks
2 Yukon Gold Potatoes diced into 2-inch pieces
2 Cups Beef Broth
¼ Cup Tomato Paste
1 Tbsp Worcestershire Sauce
1 Bay Leaves
2 Tsp Fresh Thyme Leaves to garnish