Papaya Pear Arugula Salad Recipe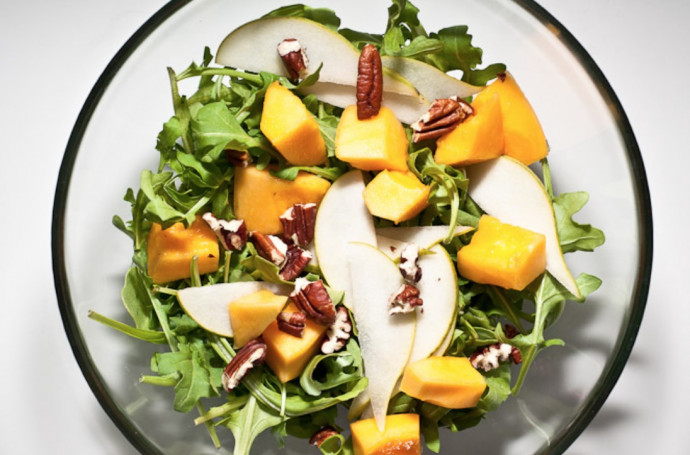 Arugula is one of my top choices in greens for a salad. Those nutty, peppery leaves are so addictive that sometimes I'll just grab a handful to snack on. Still, not everyone has the same unabashed love for arugula. I haven't tried this, but I don't think that plopping down a bowl of undressed arugula at my next dinner party will elicit the same amount of enthusiasm as, say…a bowl of papaya pear arugula salad.
The key to salads, I think, is light dressing and a good mix of textures and colours. I have a formula I follow whenever throwing together a salad: greens, fruit, nuts and if I'm feeling like I need something a little extra, a bit of cheese. Each component is there for both taste and texture. The fruit for sweetness and yielding softness and the nuts for richness and crunch.
Ingredients:
4 cups arugula
1/2 pear, thinly sliced
1/2 cup papaya, cut into chunks
1/4 cup pecans, lightly toasted
Lime-Mustard Vinaigrette
2 teaspoons lime juice
2 teaspoons whole grain mustard
2 tablespoons olive oil
salt and pepper to taste