Tomato Avocado Salad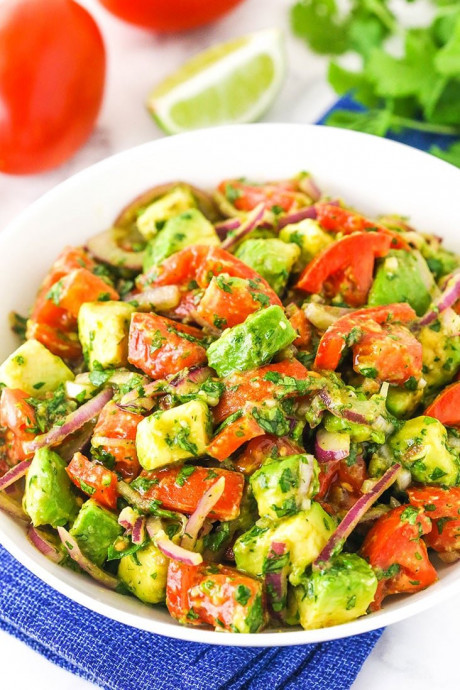 With fresh ingredients and a few seasonings, this Tomato Avocado Salad is an addictive side dish that comes together in minutes. Serve as a side to grilled chicken or steak, or on top of a salmon fillet. You can even add it to tacos! However you serve it, I know you'll love it!\ Do you ever make something for the first time and then find yourself craving it constantly? That's what happened the first time I made this Tomato Avocado Salad. Now I want it ALL the time.
A cross between a salad and a salsa, this Tomato Avocado Salad is just perfect for summer or any other time you're looking for a fresh and healthy dish. It's about as simple as any recipe can be but I absolutely love the flavors together – so addicting! Bring on anything with lime and cilantro!
It's also extremely versatile. It works as a quick and easy side dish, and I love serving it up with some grilled meat. It also works as a topping to enhance other dishes too. You can even use it as a salsa on tacos or in burritos!
However you serve this Tomato Avocado Salad, be prepared for it to disappear quickly! And I bet you'll find yourself making it again soon too.
Ingredients:
3–4 tomatoes, chopped
2 avocados, peeled and cut into bite sized chunks
1/2 red onion, sliced
1/4 cup fresh cilantro, chopped
2 tbsp olive oil
2 tbsp fresh lime juice
Zest from 1 lime
1 garlic clove, minced
1/2 tsp salt
Pepper, to taste