Cozy Turkey Rice Casserole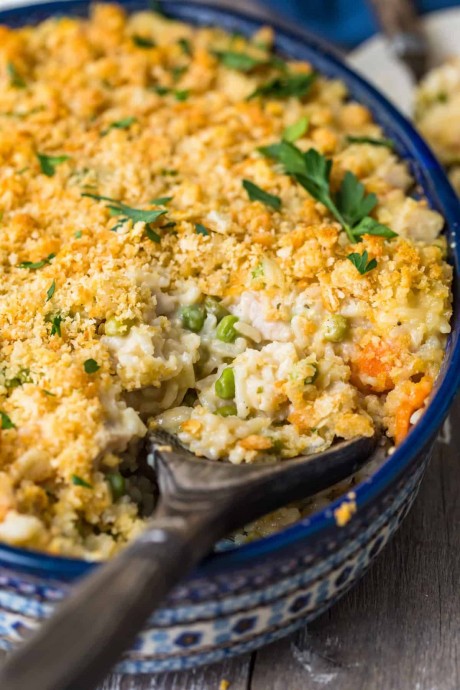 If you are wondering what to do with that leftover turkey from a family holiday dinner, then I have the perfect post-holiday recipe for you! This turkey rice casserole is deliciously comforting and so easy to whip up – perfect after spending days in the kitchen!
There are a few key ingredients in this comforting dish that make it vibrant and full of flavor: heavy cream, lemon, parmesan. tarragon, and the crackers. These ingredients create a rich and decadent dish, but at the same time it has a fresh and light flavor to it. You really can't go wrong with serving this casserole by itself, it has a good amount of veggies in it so it's a well balanced meal. You can easily serve it up with a veggie side though if you like, for example, with roasted carrots, baked green beans, balsamic brussels sprouts or zucchini.
This dish only takes 15 minutes to put together and is creamy, hearty and filling. This dish is a real crowd pleaser and easy to make. Just let it sit for a few minutes before serving. Store any leftovers covered in the fridge and gently reheat the next day.
Ingredients:
For the Topping
14 Ritz crackers about ½ cup
1 slice hearty sandwich bread about ¼ cup
3 tablespoons melted unsalted butter
For the Turkey Rice Casserole
1 tablespoon olive oil
1 tablespoon unsalted butter
1 medium yellow onion diced
2 medium carrots peeled and thinly sliced
2 garlic cloves minced
1 cup long-grain white rice uncooked
1 cup water
2½ cups unsalted chicken or turkey stock
1 cup heavy cream
¼ teaspoon kosher salt
¼ freshly ground black pepper
2 cup cooked turkey shredded or cubed
8 ounces sliced water chestnuts drained (1 can)
¾ cup grated Parmesan cheese
Juice of 1 lemon
1 teaspoon Worcestershire Sauce
1½ teaspoon dried tarragon leaves or 1 tablespoon (mincefresh
1½ cup frozen baby peas