Meatless Kidney Bean Bowls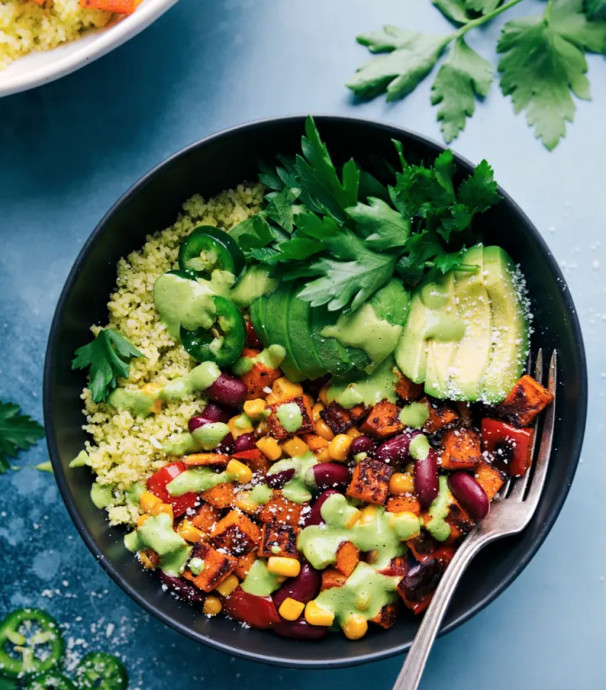 These vegetarian bowls are hearty, filling, and packed with nourishing ingredients. The sauce has a "secret" ingredient making it thick and creamy while keeping the nutrients high — it's cashews!
In fact, the lemon-herb sauce coating these bowls is adapted from that recipe! We're swapping parsley for cilantro, lemons for the limes, and adding a few ingredients like jalapeño and honey. Even though these two sauces are similar, they taste completely different!
But the best thing about these two sauces is how nutritious the ingredient list is. Typically, rich and creamy sauces rely on sour cream, eggs, or mayo to get the thickness and richness we crave in a good sauce. But we don't use any of those ingredients in this recipe! We're using — wait for it — cashews to get that same creamy, thick, and rich result. It's nothing short of amazing how incredibly delicious this sauce turns out and how good the ingredients in it are.
Ingredients:
Sauce
1/3 cup (52g) roasted and salted whole cashews
1 cup (24g) fresh flat-leaf Italian parsley
3 tablespoons (48g) lemon juice + 1/2 teaspoon zest (1-2 lemons)
1/3 cup (73g) water
2 tablespoons (25g) extra virgin olive oil
1/2 teaspoon garlic powder
Fine sea salt and pepper
1 tablespoon coarsely chopped jalapeño (no seeds or ribs), optional
1 teaspoon honey
Bowls
3 cups (390g) sweet potatoes, cut into 1/2-inch chunks (~2 medium-sized potatoes)
1 large red pepper, cut into 1-inch chunks
2 tablespoons olive oil
1 teaspoon EACH: garlic powder, paprika
1 cup (145g) frozen corn
1 can (15.5 oz; 439g) kidney beans, drained and rinsed
1 cup (184g) uncooked couscous
1 cup (235g) vegetable broth, chicken broth, or water
1 teaspoon butter or olive oil
1 large, ripe avocado, thinly sliced or chopped
Optional, for serving: lemon wedges, additional jalapeños