Easy Classic Beef Wellington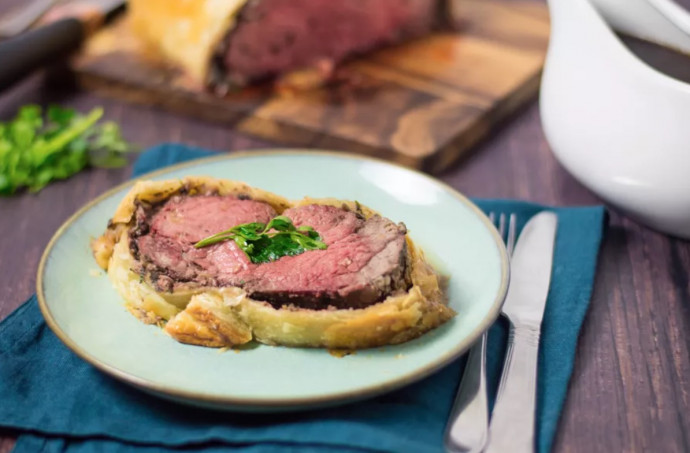 A classic of British cuisine, beef Wellington takes its name after the Duke of Wellington and has graced British tables ever since. The recipe is based on a classic French boeuf en croûte (beef wrapped in pastry) whence come many recipes of meats cooked "in crusts". Although you could make the puff pastry from scratch, using ready-to-bake pastry is not only a great shortcut but a tasty one. Simply look for an all-butter pastry—that will flake and taste better for sure.
There is no classic Wellington without pâté. In our recipe, famous, earthy duxelle and pate make a mixture to encase the juicy tenderloin. The umami quality of these ingredients brings together the juicy beef flavors with the buttery crust. A drizzle of Madeira sauce can enhance the meat flavors and a side of roasted vegetables and creamy mashed potatoes will make an unforgettable meal.
This elegant dish is delicious, and its beautiful look makes it a great celebratory meal. Although its aspect makes it seem a difficult dish to execute, there is no need to save this classic dish for special occasions only as our easy recipe can help you achieve the perfect golden crust and pink center with just a little attention to detail: make the mushroom pâté mixture, spread it on the puff pastry, place the beef in the center, close, and bake. Easy and delicious.
Ingredients:
1 ounce unsalted butter
1 medium yellow onion, finely chopped
5 ounces chestnut mushrooms, finely chopped
2 cloves garlic, minced
3 tablespoons flat-leaf parsley, finely chopped
Salt, to taste
Freshly ground black pepper, to taste
3 1/2 ounces liver pâté
1 pound frozen puff pastry, thawed overnight in the refrigerator
1 tablespoon flour
1 1/2 pounds beef fillet tenderloin
1 large egg, lightly beaten