Easy Chickpea Soup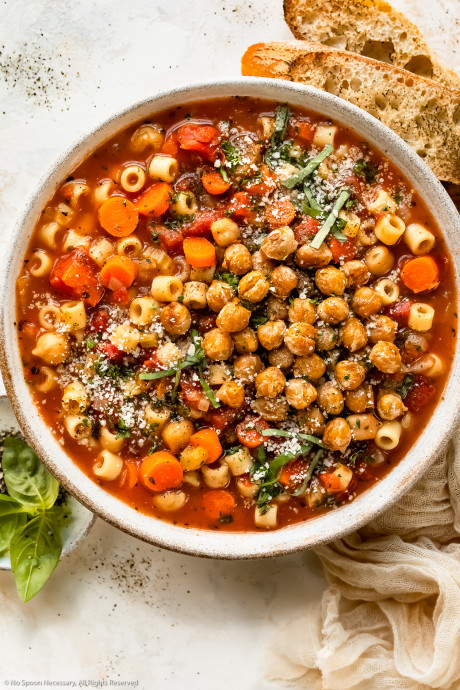 Comforting, flavorful and nourishing – this easy Chickpea Soup recipe only requires 10 minutes of prep and one pot! This hearty (yet healthy!) Italian chickpea soup features plump garbanzo beans, fresh vegetables, and tender pasta in a luscious tomato broth! If you love delicious and simple Italian soups, like Minestrone and Tuscan Bean Soup, this comforting Pasta e Ceci is sure to quickly become a family favorite!
Continue to read on for easy ways to customize this chickpea noodle soup, plus comprehensive tips for storing and freezing it too! And, don't miss the in-depth step by step photos and video tutorial included in the post!
This healthy chickpea soup is light, yet filling and bursting with robust Italian flavors! Garbanzo bean soup features plump chickpeas, tender pasta, fresh vegetables and aromatic seasonings in a savory, rich, tomato broth! Generously topped with deliciously crispy chickpeas, sharp parmesan cheese and plenty of herbaceous, bright herbs, this rustic Italian soup is chock-full of chunky texture and cozy flavors!
Ingredients:
4 1/2 TBS Good Quality Olive Oil - DIVIDED
2 (15 ounce) cans Garbanzo Beans (chickpeas) – drained, rinsed & patted dry; DIVIDED
1 large Yellow Onion – small dice (about 2 cups)
2 large Carrots – peeled and small dice (about 1 ¼ cup)
2 large Ribs Celery – small dice (about 1 ¼ cup)
Kosher Salt & Ground Black Pepper
3-4 cloves Garlic – thinly sliced
1 TBS Italian Seasoning (or 1 1/2 teaspoons EACH: Dried Oregano & Dried Basil)
½ tsp Crushed Red Pepper Flakes
1 (28-ounce can) Crushed Tomatoes
1 (14-ounce) can Fire-Roasted Tomatoes
6-7 Cups No-Sodium Vegetable or Chicken Stock (or Broth)
2 Bay Leaves
1 Parmesan Rind
8 ounces Ditalini Pasta (Or other small pasta of choice - elbow, small shell, orecchiette, fusilli)
1/3 cup freshly grated Parmesan – plus more for garnish
Optional for garnish: Fresh parsley, fresh basil