Carrot Muffins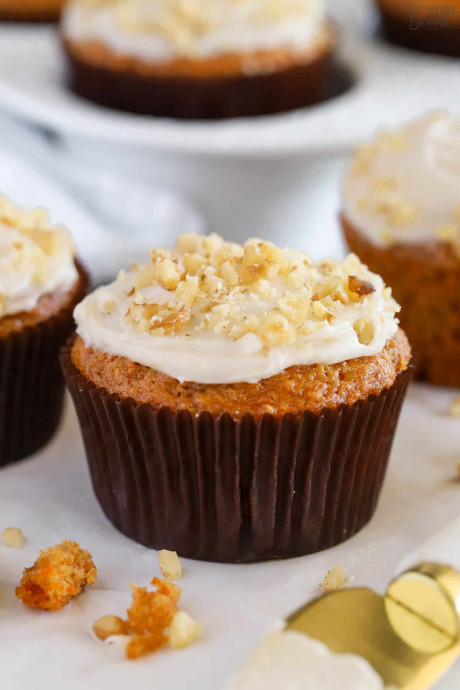 Tender and moist Carrot Muffins are the perfect way to start the day. They are filled with grated carrots, applesauce, and cinnamon, and they can be topped with a smear of cream cheese frosting or served plain – either way, they're delicious!
Why you'll love this recipe
Ease: The muffin batter comes together in under 20 minutes without an electric mixer.
Flavor: The classic flavors of carrot cake! Sweet muffins with a hint of cinnamon and vanilla. Options to add walnuts or orange zest.
Texture: Grated carrots and applesauce help to make these muffins soft and moist.
Versatility: Looking for a slightly healthier muffin? Try the ingredient swaps mentioned below. Want them a bit more indulgent? Top wit our small batch of cream cheese frosting.
Ingredients:
Muffins:
1 cup plus 1 tablespoon all purpose flour
¾ teaspoon baking soda
½ teaspoon baking powder
1-½ teaspoons ground cinnamon , increase to 2 teaspoons, if desired
¼ teaspoon salt
¼ cup vegetable or canola oil
⅓ cup unsweetened applesauce
⅔ cup granulated sugar
2 large eggs
1 teaspoon pure vanilla extract
1-½ cups FINELY grated carrots, loosely measured, not packed (about 2 medium-large carrots)
Frosting:
2 ounces cream cheese , softened to cool room temp
2 tablespoons unsalted butter , softened to cool room temp
pinch of salt
1 cup powdered sugar, plus more, if needed
¼ teaspoon pure vanilla extract or ⅛ teaspoon ground cinnamon, or finely grated zest of ½ a small orange
¼ cup finely chopped walnuts, optional garnish