Flourless Chocolate Cake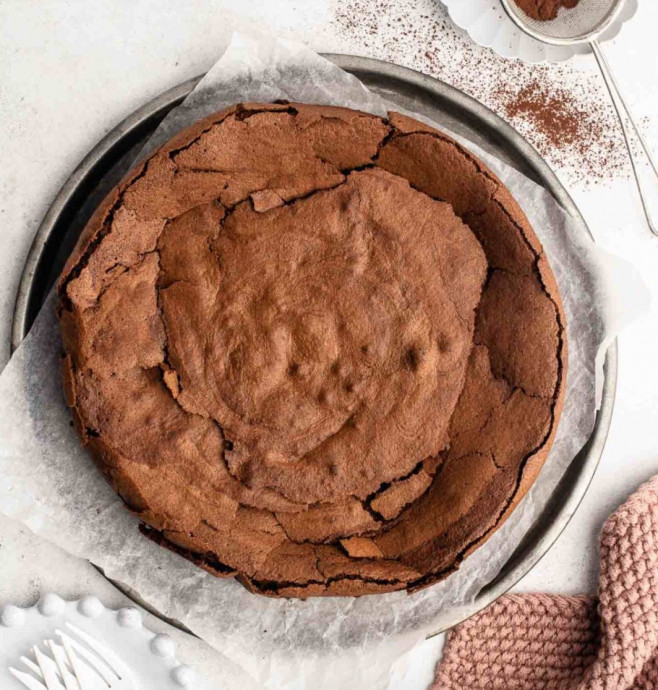 A delicious and decadent Flourless Chocolate Cake which is tender and fudgy. This is the perfect cake for desserts or celebrations! This Flourless Chocolate Cake is perhaps one of the easiest, delicious and versatile recipes to have up your sleeve. If I need to make a gluten-free chocolate cake, I often turn to this recipe. If I want a cake which can double as dessert, this cake is perfect!
This Flourless Chocolate Cake is tender but fudgy, almost brownie-like in taste and texture. It's always a hit with both kids and adults, and there are so many ways of varying this cake to suit what you are serving it with.
Ingredients:
For the cake
125 g (1 1/4 stick) unsalted butter
250 g (9 oz) dark chocolate, 70% cocoa
4 eggs, separated
2 eggs
75 g (1/3 cup) caster sugar
100 g (1/2 cup minus 1 tablespoon) caster sugar
1–2 tablespoons liqueur, such as Cointreau, Frangelico or rum (optional) OR 2 teaspoons vanilla extract
For the topping (optional)
500 ml double cream (heavy cream, whipping cream or thickened cream)
1 tablespoon liqueur, such as Cointreau, Frangelico or rum (optional)
cocoa powder for dusting OR 1 piece of dark chocolate for shaving/grating
fresh raspberries, optional