Mediterranean Sheet Pan Chicken Dinner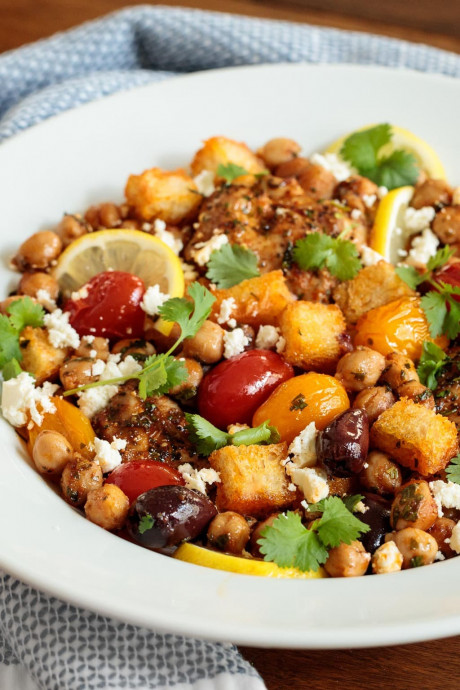 This delicious chicken sheet pan dinner is a super easy meal that's perfect for busy weeknights, but delicious and pretty enough to serve for a dinner party!
This recipe calls for chicken thighs. After favoring chicken breasts for many years, I have learned to really appreciate and love chicken thighs. Why? First and foremost, they don't dry out or get tough like chicken breasts often do. With chicken thighs, you don't have to worry about overcooking the meat. In recipes like this Mediterranean Sheet Pan Chicken, that's a great benefit as you can let the bread get crispy and golden without concern that the chicken will dry out. There's more, I actually saved the best for last. Bite-size squares of sourdough bread are tossed with the chicken mixture before baking and crisp up in the oven to produce the crispest, most flavorful croutons you'll ever have the pleasure of meeting. Top everything off with a shower of Feta cheese, fresh cilantro leaves and a handful of sunny lemon slices. Voila! A complete meal in a bowl!
Sometimes I add a simple green salad, but that's the most you need with this fabulous Mediterranean Sheet Pan Chicken. It's unique, delicious and never fails to bring rave reviews.
Ingredients:
⅓ cup extra-virgin olive oil
5 medium garlic cloves finely minced
1 tablespoon smoked paprika
1 ½ teaspoon oregano
1 teaspoon ground cumin
1 teaspoon ground coriander
1 teaspoon kosher salt
⅓ cup finely chopped cilantro
1 ½-2 pounds boneless, skinless chicken thighs
2 15-ounce cans garbanzo beans (chickpeas) well drained
½ cup Kalamata olives drained
1 pint cherry tomatoes I like to use yellow and red
3 cups cubed sourdough bread cut into ½-1 inch cubes
½ cup crumbled Feta cheese
cilantro leaves or chopped cilantro for garnish
1 medium size lemon washed, halved and thinly sliced