Kentucky Chocolate Walnut Pie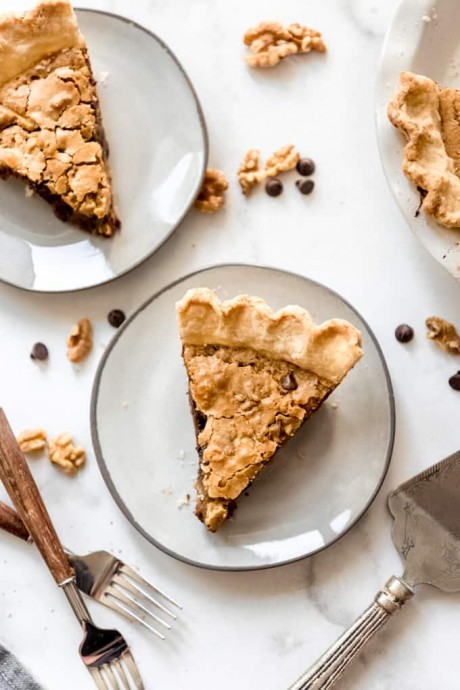 There is a very famous pie associated with the great state of Kentucky and specifically, the Kentucky Derby known as Derby Pie. This is not quite the famous derby pie, which as I understand it, is a super-secret recipe that typically contains bourbon and possibly pecans in place of walnuts. The elements of chocolate chips and nuts combine with an easy-to-whip-up filling that get poured into a pie crust and bakes into a chewy, gooey, toffee/butterscotch-esque layer with a crackly top that seem to come close to what a derby pie is actually like. If you love pecan pie and chocolate chip cookies, this is the pie for you! It sort of straddles the line between those two desserts in a fabulous way!
I prefer this homemade pie crust which you can make ahead and keep in the freezer so you always have a pie crust on hand ready to go. But you can use a store-bought crust to make this a super quick and easy to make pie if pie crusts are intimidating to you. Feel free to switch up the chips and nuts if you like! You could use dark or milk chocolate chips in place of semi-sweet, or pecans, macadamia nuts, or even almonds in place of the walnuts for a different result based on your personal preference! With a flaky, buttery crust and rich filling, this Kentucky Chocolate Walnut Pie is a state favorite! It's amazing with a scoop of vanilla ice cream on the side!
Ingredients:
1 unbaked pie crust
1 1/4 cups walnuts
1 cup semisweet chocolate chips
1/2 cup granulated sugar
1/2 cup brown sugar, packed
1/2 cup all-purpose flour
1/2 cup salted butter, melted and cooled
2 eggs, lightly beaten
2 tablespoons vanilla extract
Pinch of salt