Red Chile Chicken Tacos with Creamy Corn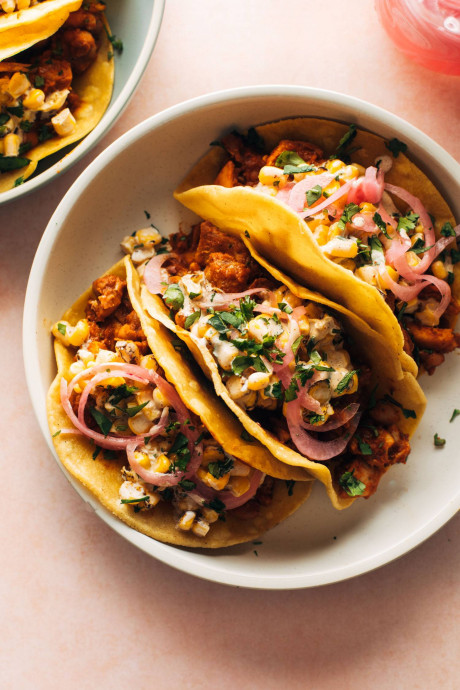 These Red Chile Chicken Tacos are always on our minds! Lightly pan-fried corn tortillas stuffed with tender chicken and a pinto bean red chile saucy filling, piles of creamy corn salsa, and tangy homemade pickled red onions. YUM!
There are so many delicious flavors going on with these chicken tacos, but the real highlight is that you don't have to do very much work to accomplish any of them. The taco filling especially is so easy and pretty darn quick because all you're doing is cooking up some chicken thighs, tossing in a can of pinto beans, and then opening up a packet of Frontera red chile enchilada sauce (total fave and namesake!) and letting that do all the work.
Boom. Bam. Lightly spiced, smoky, tomatoey, saucy goodness ready to stuff your tortillas so full they spill over onto your hands.
Then you get to just kind of fancify things. You'll mix up a little corn situation with some major elote vibes that is also so easy but will be VERY DIFFICULT to hold off on eating until taco assembly. Just a taste to adjust the lime juice? Okay. Twenty more bites and oops it's gone? It happens. Luckily, it's easy to remake.
Ingredients
Red Chile Chicken Tacos
1 pound boneless skinless chicken thighs
olive oil, salt, and pepper
1 pouch of Frontera red chile enchilada sauce (or similar)
one 14–ounce can pinto beans, rinsed and drained
Creamy Corn
1/4 cup mayo
2 tablespoons cream cheese
2 cups frozen or fresh sweet corn
1 clove garlic, grated
1/2 teaspoon salt
1 teaspoon cumin
1 teaspoon chili powder
lime juice to taste
Pickled Onions
1 red onion, thinly sliced
1/2 cup red wine vinegar
1/2 cup water
1 teaspoon salt
1 tablespoon sugar
Extras
corn tortillas (I like to quickly pan-fry mine in a shallow skillet of hot oil to make them extra soft)
cilantro