Easy Pasta Primavera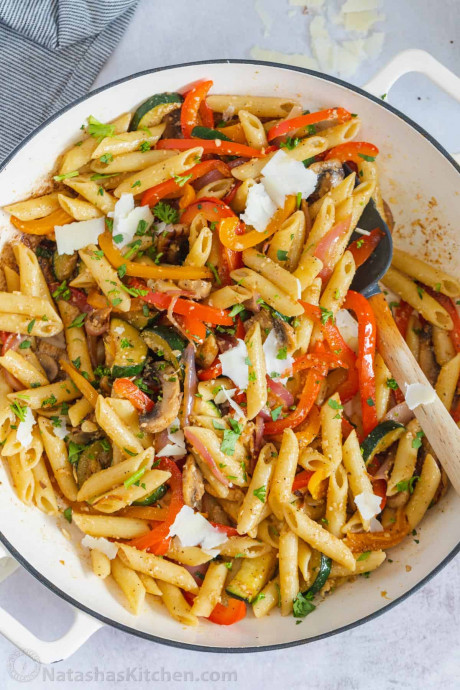 An easy Pasta Primavera is a light pasta recipe loaded with vegetables and tossed in a fresh lemon and garlic sauce. This vegetarian pasta dish is a great way to incorporate seasonal spring and summer veggies and it's so satisfying.
Because of its naming, many people think Pasta Primavera is an Italian dish when in fact it is a popular American pasta dish that was invented in the 1970s. It is made with pasta and lightly cooked fresh vegetables. Rather than using a creamy sauce, it's tossed in light garlic and lemon sauce. The pasta is often called summer or spring pasta, it's such a light dish and does truly feel like summer.
Variations
Protein – You can add meat to the pasta; shrimp and chicken would work great.
Vegetables – you can change up the veggies depending on what is seasonal or what you have on hand. Broccoli, French green beans, snap peas, scallions or asparagus would all be great substitutes or add-ins.
Pasta – you could change up the pasta for a different bite-sized pasta shape such as Cavatappi, ziti, fusilli, or your favorite variety.
Sauce – If you are looking for a richer sauce, add Homemade Pesto or Alfredo Sauce to the dish.
Ingredients:
2 Tbsp olive oil
8 oz penne pasta
1 bell pepper, any color, sliced into strips
1 medium zucchini, sliced into rings
6 oz brown or white mushrooms, sliced
1/2 medium red onion, sliced
¾ tsp fine sea salt, or to taste, plus more for boiling pasta
¼ tsp ground black pepper, or to taste
3 Tbsp unsalted butter
3 garlic cloves, minced
2 Tbsp lemon juice, freshly squeezed
1/2 cup freshly grated parmesan cheese, plus more to serve
2 Tbsp chopped fresh parsley, to serve