Farro Salad with Apple and Arugula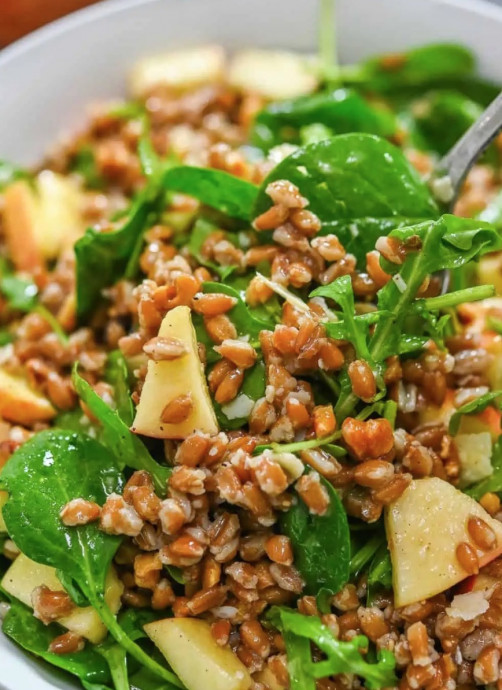 This Farro Salad with Apple and Arugula is full of crisp apples, tender greens, nutty Parmesan, and toasted nuts. The tangy dressing goes perfectly with the delicious grains.
You will love this tangy, crisp, and scrumptious Farro Salad with Apple and Arugula. It has so many delicious components that come together beautifully. The mix of spinach and arugula I used added even more variety, and the juicy apples add flavor and pops of color. Nutty, sweet, and tangy, this salad offers lots of deliciousness for your taste buds.
This salad is healthy and filling enough to be served as a light meal, or used as a side dish with the main course. The protein in the farro along with the vitamins and minerals found in the greens, apples, and walnuts make this a guilt-free meal that tastes good and is also good for you. Let's look at how you'll make it.
Ingredients:
For the Dressing
3 tbsp. olive oil
2 tbsp. apple cider vinegar
½ tbsp. mustard
½ tbsp. honey
¼ tsp. salt
⅛ tsp. pepper
For the Salad
4 cups arugula or spinach arugula mix
2 cups cooked farro, cooled
2 small apples, diced
½ cup shaved Parmesan
⅓ cup toasted walnuts, roughly chopped