Vegetarian Tortilla Soup (with lentils)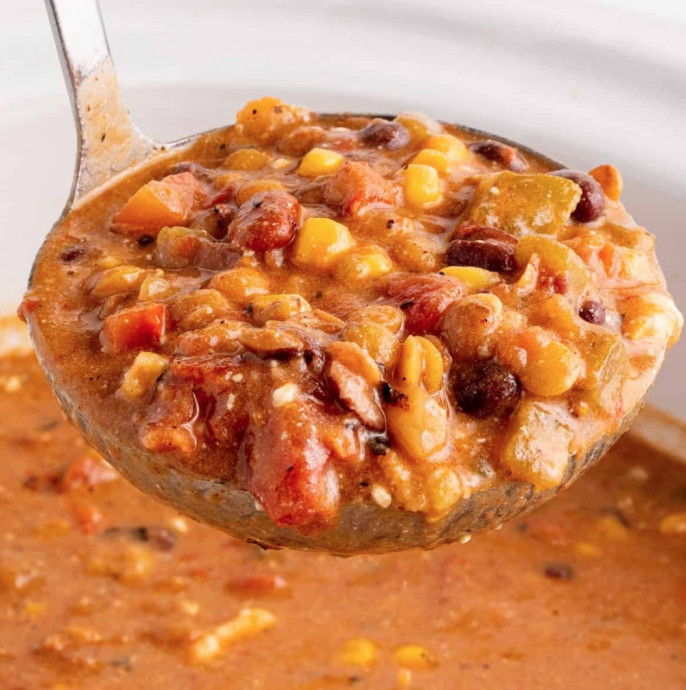 Delicious and creamy, this Vegetarian Tortilla Soup is packed with bold flavors, made easily with common and easy to find ingredients, economical, and can be made in the slow cooker, Instant Pot, or on the stovetop!
I may not be a full-fledged vegetarian, but I've been enjoying trying out some vegetarian options lately. They're super tasty, and easier on the wallet!
If you like chicken tortilla soup, you should give this vegetarian lentil version a chance. The other flavors are bold and prominent, so you won't feel like you're eating a big bowl of lentils.
It's actually a great gateway into trying meatless meals, since it's still really hearty and filling!
As written, it's a slow cooker meal, but I've also included Instant Pot and stovetop directions for your convenience, so you're bound to find an option that fits your schedule.
Ingredients:
Soup
2 Tbsp avocado or olive oil
1 medium yellow onion diced
1 medium red bell pepper seeded and diced
1 medium green bell pepper seeded and diced
1 jalapeño pepper diced
4 cloves garlic minced
1 Tbsp ground cumin
1 Tbsp chili powder
2 tsp smoked paprika
1 tsp kosher salt
1/2 tsp black pepper
1/2 tsp dried oregano Mexican oregano is amazing, but regular will also work
15 oz can black beans undrained
15 oz can pinto beans undrained
1 cup frozen fire-roasted corn regular frozen corn will also work
1 cup green or brown lentils
28 oz can fire-roasted diced tomatoes undrained
4 oz can diced green chiles undrained
8 oz cream cheese softened or cut into cubes
4 cups reduced sodium vegetable broth
Toppings (all optional)
tortilla strips or tortilla chips
diced avocado or avocado slices
sour cream
lime wedges
pico de gallo
sliced fresh or pickled jalapeños
minced white or red onion
minced fresh cilantro