Salmon Poke Bowl with Spicy Mayo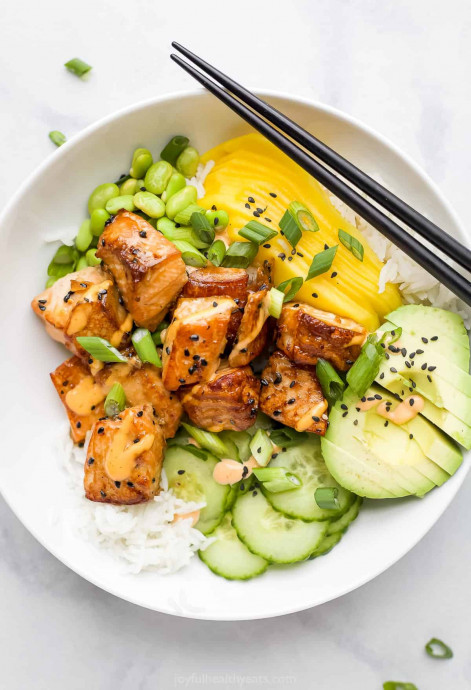 These Salmon Poke Bowls are bursting with flavor and are a super easy light dinner for the family. Marinated salmon that's baked until caramelized served on a bed of fluffy basmati rice with cucumbers, mango, edamame and creamy avocado then drizzled with a spicy mayo for the win!
I'm helplessly in love with these flavorful salmon poke bowls. From the creamy avocado slices to the sweet and nutty edamame beans, there's a burst of freshness in every single bite. Don't even get me started on the salmon itself!
It's cut into cubes, marinated in a classic Japanese seasoning blend, then roasted in the oven until it's nice and flaky. It pairs wonderfully with the fresh produce and the fluffy rice. Then you have the spicy sriracha mayo sauce to tie it all together. I might rename this recipe to "heaven in a bowl!"
Ingredients:
For the Salmon Poke
1 lb. raw salmon skin removed, cut into 1" cubes
2 teaspoons toasted sesame oil
2 1/2 tablespoons tamari sauce
1/2 tablespoon rice wine vinegar
1 garlic clove, minced
1 teaspoon fresh ginger, minced
1 teaspoon black sesame seeds
For the Sriracha Mayo Sauce
3 tablespoons mayo
3 teaspoons sriracha
For the Bowls
2 bags of Success Basmati Boil-in-Bag Rice
2 cups cucumber, thinly sliced
1 cup edamame
1 avocado, thinly sliced
1 cup mango, diced
1 cup sliced scallions