Strawberries and Cream Coffee Cake with Vanilla Cream Cheese Glaze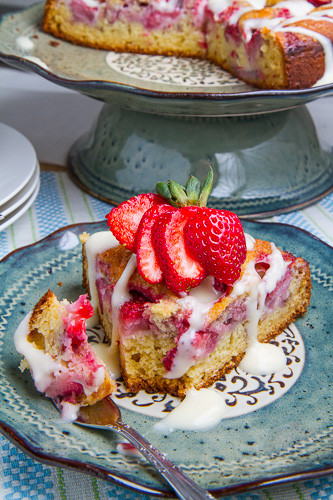 A moist and tender strawberry sour cream coffee cake with a vanilla cream cheese glaze.
With the local strawberries in season I have been getting a lot of them every week and it was about time that I used them in a recipe rather than just snacking on them. I went with a pretty basic coffeecake recipe that relies on butter, sour cream and buttermilk to ensure that it is nice and moist and tender both right out of the oven and that it remains that way for a few days. This strawberries and cream coffeecake recipe could not be easier to make; you really just need to mix the dry ingredients, mix the wet ingredients, combine them, pour them into a baking pan and then bake. With less than 10 minutes of work you can have this coffeecake in the oven and be impatiently waiting for it to bake while your house fills up with the irresistible aromas of baking strawberries and vanilla! What a great way to enjoy fresh summer strawberries for breakfast!
ingredients
1 1/3 cup flour
1/2 teaspoon baking soda
1/2 teaspoon baking powder
1/4 teaspoon salt
1/3 cup butter, room temperature
2/3 cup sugar
2 eggs
1/2 cup sour cream (or vanilla yogurt)
1/4 cup buttermilk
1 teaspoon vanilla extract
1 1/3 cup strawberries, sliced
3 tablespoons turbinado sugar
1/3 cup cream cheese, room temperature
2/3 cup confectioners sugar, sifted
1 teaspoon vanilla extract
3 tablespoons milk