Vegan Peanut Butter Chocolate Tart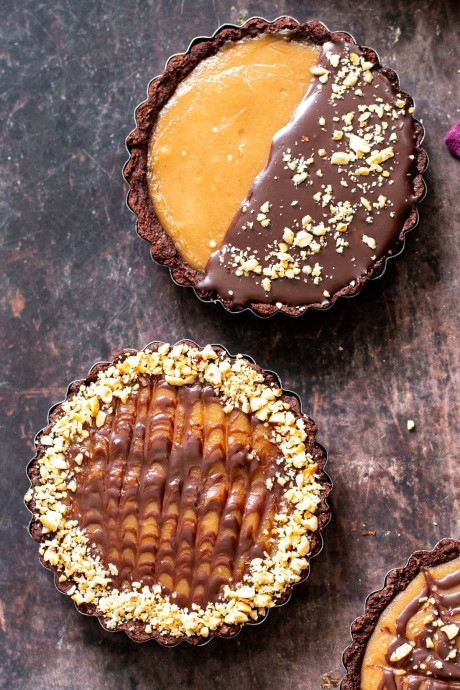 This Vegan Peanut Butter Chocolate Tart recipe is super impressive yet really easy to make using simple ingredients! Gluten-free, Soyfree & dairy-free. These cute little vegan peanut butter chocolate tarts look super impressive but are also surprisingly easy to make. If you love chocolate and peanut butter, you will love these vegan mini desserts.
The filling is creamy and dreamy and the crust is just the right amount of chocolate and crisp. Together they are a match made in flavor and texture heaven.
These are perfectly decadent yet super simple! It all starts with a gluten-free chocolate crust made with almond and oat flour. Once baked, the crust is filled with a creamy rich peanut butter filling and topped with some melted chocolate and roasted peanuts! This is what dreams are made of!
You can decorate them any way you want! For something more elegant, go for a spiderweb design. In the tips section, I tell you how to do it. For peanut-free you can cashew butter and roasted cashews.
Ingredients:
For the crust:
1/2 cup (60 g) oat flour
1/2 cup (56 g) almond flour
1/3 cup (30 g) cocoa powder
1/2 teaspoon vanilla extract or vanilla bean powder
4 tablespoons maple syrup
1 tablespoon coconut milk or more as needed
For the peanut butter filling:
3/4 cup (195 g) smooth peanut butter
3/4 cup (177.44 ml) full fat coconut milk
3 to 4 tablespoons (40 g) sugar or other sweeteners of choice
1/2 teaspoon vanilla extract
For the chocolate topping:
1/4 cup (45 g) semi-sweet vegan chocolate
1.5 tablespoons coconut milk