Vegan Spinach Mushroom Tart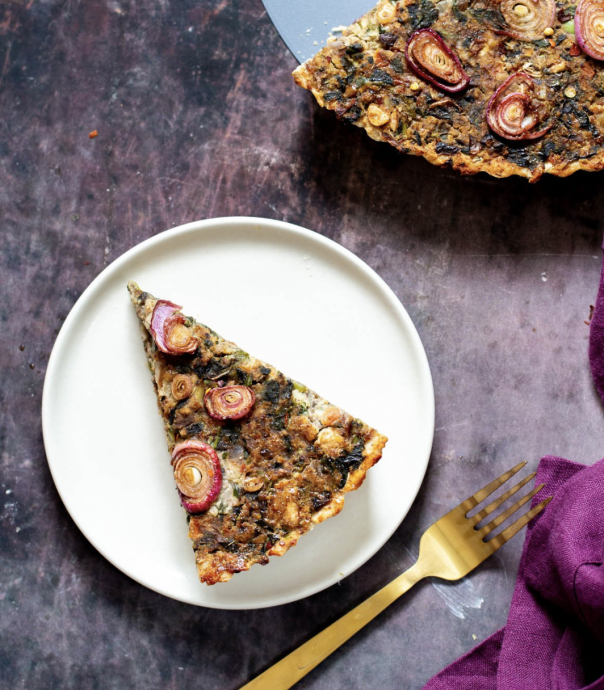 This savory Vegan Spinach Mushroom Tart with homemade pastry is the best thing for breakfast or brunch and you'll love the combination of spinach and mushrooms! gluten free option. This easy vegan spinach mushroom tart goes well for dinner as well as brunch! Serve this tart with my gravy for special dinners or with my hollandaise sauce for breakfast.
While many vegan savory tart recipes call for pre-made pie crust, I opted to make my savory shortcrust pastry from scratch and I recommend you try it too! The savory pastry comes together within minutes and is just perfect. Rich yet tender, and it holds up well, too.
The shortcrust pastry is made with all purpose flour, almond flour, and flax eggs Herbs are added for extra flavor. The filling is savory and packed with flavor from sautéed mushrooms, onions, and spinach.
I like white beans as the base of the filling. You can also use a mix of chickpeas and tofu. The tart is savory and hearty. Add some raisins or cranberries to make it festive. Add more veggies for a hearty weekend brunch.
Ingredients:
For the crust:
3/4 cup plus 2 tablespoons almond flour
3/4 cup all purpose flour
1/2 teaspoon salt
1 teaspoon Italian herb/blend or Italian seasoning
2 teaspoons flaxseed mixed with 2 teaspoons water
4-6 tablespoons chilled non-dairy milk such as almond, oat or coconut
For the filling:
2 teaspoons extra virgin olive oil
4 garlic cloves finely chopped
1/2 cup finely chopped onion
4 ounces mushroom chopped small
1/4 cup carrots chopped small
15 ounce can of white beans or chickpeas drained or 1.5 cups cooked
1/4 teaspoon salt
1/2 cup chopped red or green pepper
1/4 teaspoon pepper flakes
2 teaspoons Italian seasoning
1/2 teaspoon dried sage
1 tablespoon vegan worcestershire sauce
2 tablespoons nutritional yeast or use 1 tablespoon miso
1 teaspoon onion powder
1/2 teaspoon black pepper
4 ounces frozen spinach thawed and squeezed To remove the excess moisture (you can use up to 6 ounces of spinach here)
1/4 - 1/2 teaspoon salt
2 tablespoons chopped sun-dried tomato or 1 tablespoon chopped raisins
1/4 cup breadcrumbs
1 tablespoons flaxseed meal mixed with 2 tablespoons water
1 tablespoon lemon juice
For topping:
thinly sliced tomato slices or thinly sliced onion slices
1-2 teaspoon vegan worcestershire sauce
1 teaspoon oil