High-Protein Scrambled Eggs with Cottage Cheese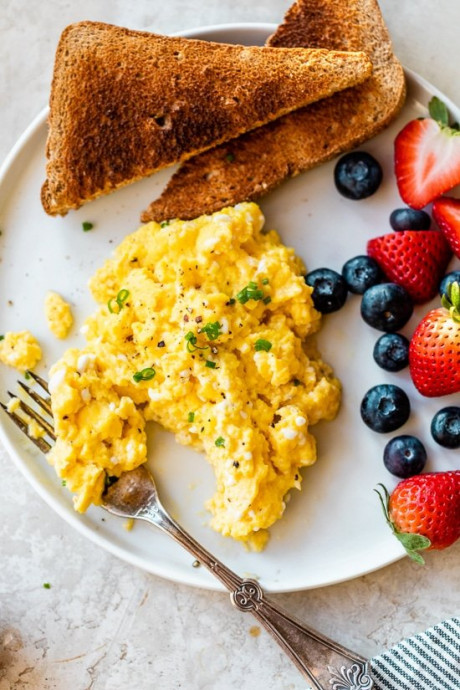 Add some cottage cheese to your scrambled eggs for an easy high-protein breakfast. The results are fluffy eggs with over 17 grams of protein per serving! Looking to get more protein in your breakfast without protein bars or shakes? Try these High-Protein Scrambled Eggs with Cottage Cheese. The eggs come out fluffy and delicious, and it only takes about five minutes to make.
Like yogurt, I always have cottage cheese in my fridge since it's such an easy source of protein. Sometimes I add it to my frittatas or waffles or make it the base of a breakfast bowl . Whisking cottage cheese into my scrambled eggs is almost too simple but definitely worth sharing. This is a great recipe for people who don't like the taste of cottage cheese, but want to incorporate it into your meals because you can't taste it. Serve the eggs with whole grain toast and fresh berries.
Wrap them in a tortilla to make breakfast tacos or burritos.
Make breakfast sliders by putting the eggs in small potato buns. Add breakfast sausage or bacon for extra protein.
Finish off your eggs with your favorite toppings for a breakfast bowl.
Ingredients:
4 large eggs
1/2 cup 2% cottage cheese, I like Good Culture
1/8 teaspoon kosher salt
fresh ground black pepper
olive oil spray