Lunchtime Chickpea Tortellini Salad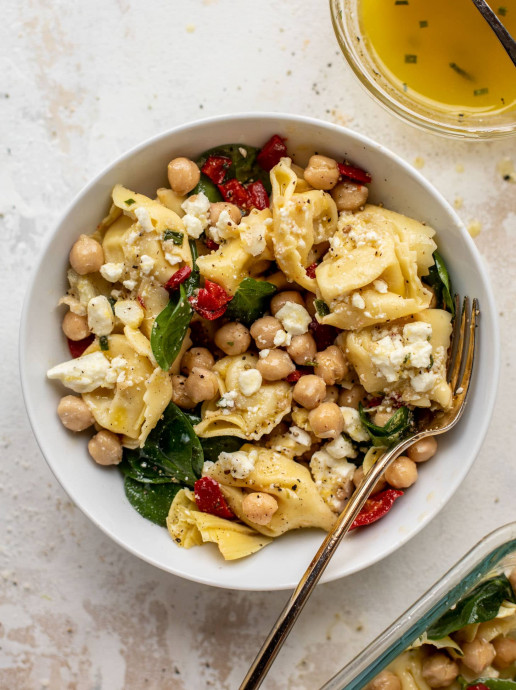 One of my favorite lunches is this chickpea tortellini salad. Packed with red peppers, artichokes and spinach, it's drizzled in a lemon feta dressing and perfect to make ahead for a great lunch or side dish!
This chickpea tortellini salad is going to become a fridge staple for you. It takes about 20 minutes or so to throw together, can last in the fridge for a few days and is a delicious side dish that works with so many meals.
I live for a versatile dish.It's super customizable. You can use any tortellini that you or enjoy. Cheese, spinach, chicken – whatever! There are no rules when it comes to the tortellini, aside from cooking it and throwing it in the salad.
The add-ins are up to you too! If I'm making this for a few days worth of meals, I like to use things like jarred peppers and artichokes that will hold up well in the fridge. Things that work as they sit in dressing, you know? But if you're just prepping it for one meal, you can add in all sorts of fresh vegetables, like cucumbers or tomatoes.
It's the perfect clean-out-the-fridge or pantry meal!
Ingredients:
1 pound tortellini pasta, any filling works (I like cheese or spinach tortellini)
5 ounces fresh baby spinach
1 (14 ounce) jar roasted red peppers, drained and chopped
1 (14 ounce) jar artichoke hearts, drained and chopped
1 (15 ounce) can chickpeas, drained and rinsed
LEMON FETA DRESSING
3 tablespoons freshly squeezed lemon juice
1 tablespoon white wine vinegar
2 tablespoons fresh chopped herbs, like parsley and chives
1 teaspoon freshly grated lemon zest
1 teaspoon honey
1 garlic clove, minced
kosher salt and pepper
½ cup extra virgin olive oil
⅓ cup crumbled feta cheese