Stuffed Poblano Peppers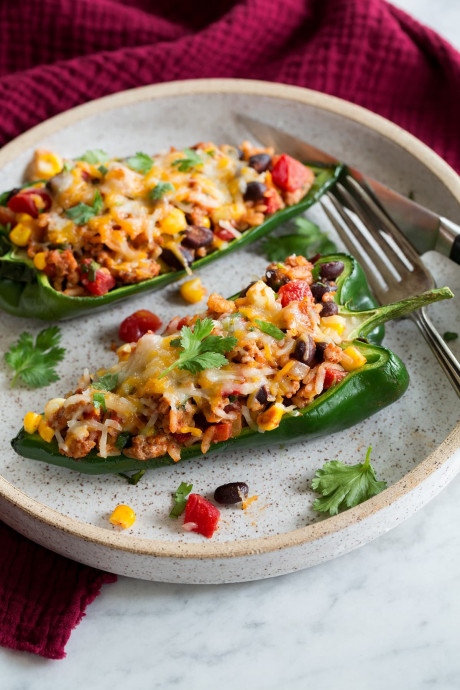 Stuffed Poblano Peppers – loaded with lean ground turkey, hearty rice and black beans, nutritious tomatoes and corn, and finished with melty cheese. It's a Tex-Mex recipe that's brimming with flavor!
You really don't need much else to serve with them, though if you wanted something else you can't go wrong with tortilla chips, salsa and guacamole.
The key here is just to find the larger poblano peppers at the grocery store (those little ones wont fit much filling), and I like to find some that will sit flat on each side if possible.
Ingredients:
6 large (about 1 3/4 lbs) poblano peppers, halved lengthwise, seeds and ribs removed
1 Tbsp olive oil
1 cup chopped yellow onion (1 small)
1 Tbsp minced garlic (3 cloves)
1 lb. lean ground turkey
1 cup corn, fresh or frozen
1 (10 oz) can diced tomatoes with mild green chilies, well drained in a sieve
1/2 cup tomato sauce
1 cup (slightly packed) cooked white rice
1 (15 oz) can black beans, rinsed and drained
1 Tbsp chili powder
1 tsp ground cumin
1 1/2 cups shredded Mexican cheese blend, divided
1/4 cup chopped cilantro
Salt and black pepper