No-Bake Greek Yogurt Tart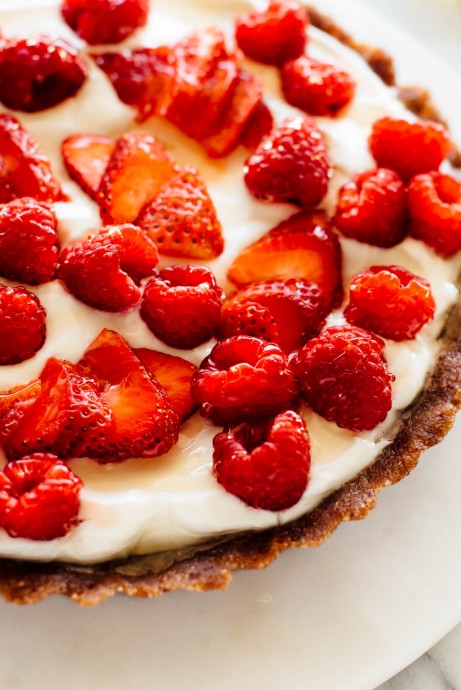 This no-bake Greek yogurt tart recipe looks impressive, but it's very easy to make and nutritious, too! I topped mine with raspberries and strawberries, but use any fresh fruit you'd like. This recipe is brilliant—the base is made simply with Medjool dates and pecans. It's like a Larabar in crust form! After a 10-minute freeze, she spreads Greek yogurt and fresh fruit on top. I'm not a fancy baker, so if I can make this tart, I'm confident that you can, too.
You could top this tart with so many other fruits, too—I want to try it with ripe summer peaches, and I know it's great with defrosted tart cherries on top.
You'll need a 9 to 9 1/2-inch tart pan with a removable bottom (or 6 ramekins for individual servings) to make this recipe. Do not attempt this recipe with a tart pan that does not have a removable bottom!
Ingredients:
For the crust
2 cups raw pecans
10 Medjool dates, soaked in warm water for 10 minutes and pitted
¼ teaspoon fine sea salt
For the filling
1 ½ cups plain Greek yogurt
½ cup raspberries or blueberries (or more—I went ahead and used an entire 6-ounce container)
4 strawberries, hulled and thinly sliced
2 tablespoons honey