Chocolate Sheet Cake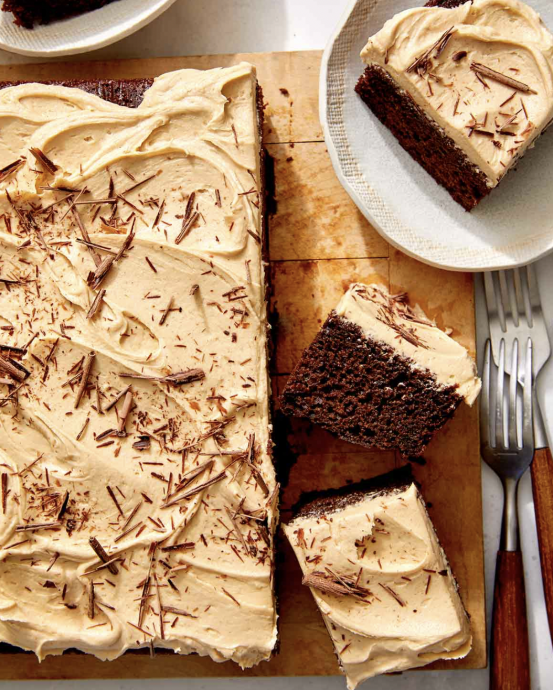 The best Chocolate Sheet Cake with creamy peanut butter frosting, you'll ever have. Our recipe is so simple and results in a rich, chocolatey, perfectly moist cake. We can't resist a classic combo, so we topped our cake with a super creamy and fluffy peanut butter frosting! The perfect special occasion (or really any occasion, to be honest) sheet cake!
A grocery store chocolate sheet cake is the first cake I ever remember eating. I was in first grade and it was my birthday cake, finished with a decorative Little Mermaid theme on top. After my birthday party, we still had half the cake left and my sister and I ate our way through it for the next week. It was GLORIOUS. I'm pretty sure that's what kicked off my love of chocolate sheet cakes!
Our recipe today is so easy and there's no need for a hand mixer or stand mixer, which is always my favorite kind of cake to make (or any baked good, for that matter). Our cake has a rich chocolatey flavor and a velvety texture. We topped our cake with an ultra creamy peanut butter frosting, but it also tastes amazing topped with whipped chocolate ganache.
Ingredients:
1 3/4 cups all-purpose flour
2 cups sugar
3/4 cup unsweetened cocoa powder
1 teaspoon baking soda
1 teaspoon baking powder
½ teaspoon salt
3 large eggs
1 2/3 cups buttermilk
1/2 cup hot coffee
1/2 cup vegetable oil
1 teaspoon vanilla extract or paste
1 recipe creamy peanut butter frosting
3 tablespoons dark chocolate shavings for garnish