5-Minute Meal: Garlic Sautéed Spinach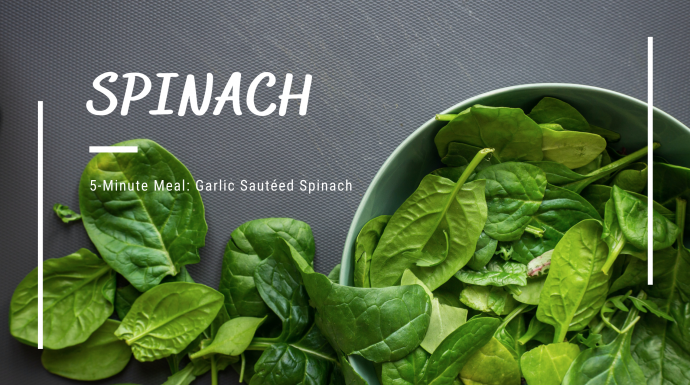 Dinner couldn't be simpler! This delicious little dish cooks so fast, you can make successive batches and the first batch will still be hot by the time you're finished with the second. Another reason to make it twice: The first batch might be gone before you get to the second. People walking through your kitchen, armed with forks, know how to make this disappear. You can make this with fresh or frozen (either whole-leaf or chopped) spinach. For this dish, they're pretty much interchangeable. Moreover, Spinach is an extremely nutrient-rich vegetable. It packs high amounts of carotenoids, vitamin C, vitamin K, folic acid, iron, and calcium.
Ingredients
Fresh (or frozen) spinach
1 tablespoon water
1 tablespoon olive oil
½ teaspoon minced garlic
¼ teaspoon salt
1. If using fresh spinach, place it in a colander and rinse well. Shake to remove most, but not all, of the water clinging to the leaves. If using frozen spinach, thaw it in a colander by running it under room-temperature tap water, and then let it drain well, pressing out most of the excess liquid with the back of a spoon. (It doesn't have to be bone-dry—just not soupy.)
2. Place a large (10-to 12-inch) heavy skillet over medium-low heat, add the tablespoon of water and the olive oil, and heat for about 30 seconds. Then add the spinach, and cover the pan. Let it cook, covered and undisturbed, for 30 seconds for fresh spinach or 1 minute for frozen. Then uncover, toss with tongs, and turn up the heat to medium-high.
3. Add the garlic and salt, and cook, stirring with the tongs for about a minute longer, or until the spinach is wilted. Lift out the spinach with tongs, leaving behind any extra liquid. Serve right away.
Tips:
Add some black pepper and/or red pepper flakes along with the garlic.
Drizzle the cooked spinach with a little high-quality olive oil or any roasted nut oil just before serving.
Drizzle some toasted sesame oil over the cooked spinach and top with toasted sesame seeds.
Squeeze lemon juice over the cooked spinach.
Add a handful of raisins or currants along with the spinach.
Once the spinach is cooked, sprinkle on some lightly toasted pine nuts, chopped toasted walnuts, or chopped apple.
Enjoy!