Citrus Salad Recipe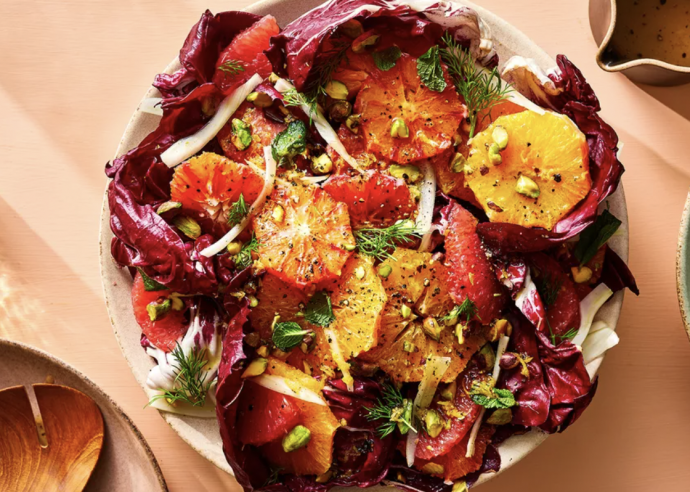 This elegant citrus salad is colorful, bright, and delicious, making it the perfect salad for a holiday dinner or brunch. Deep red blood oranges, red or yellow grapefruit, and navel oranges give the salad its striking color and flavor, with shaved fennel, radicchio, and mint leaves rounding out the flavors.
Blood oranges and red grapefruit are in season from November to May, so they are at their best just in time for the late fall and winter holidays. If the blood oranges or red grapefruits aren't available, use different varieties-consider tangerines, clementines, satsuma mandarins, or pomelos.
The salad is versatile as well. If you don't enjoy the bitter taste of radicchio, arrange the salad on a bed of peppery arugula or milder spring greens. For garnish, you might prefer pomegranate seeds for their color, or instead of the pistachios, sprinkle the salad with almonds, walnuts, or pine nuts.
"This is a gorgeous, holiday-worthy salad that's all at once juicy, crunchy, visually stunning, and refreshing. I used Cara Cara oranges and two different varieties of radicchio. Even if you aren't a fan of anise flavors, the fennel isn't at all overpowering, so don't skip it." -Danielle Centoni
Ingredients:
For the Honey-Citrus Dressing:
1/4 cup extra-virgin olive oil
2 tablespoons fresh orange juice
1 tablespoon fresh lemon juice
1 tablespoon champagne vinegar, or white wine vinegar
1 1/2 tablespoons honey, or to taste
1 teaspoon finely grated lemon zest
1 teaspoon Dijon mustard
Freshly ground black pepper, to taste
Salt, to taste
For the Citrus Salad:
2 medium blood oranges
2 medium navel oranges
1 medium red grapefruit
1 medium fennel bulb
8 ounces radicchio, about 1 small head, leaves torn
1/4 cup pistachios, whole or coarsely chopped