Strawberry Salad With Black Pepper, Feta And Mint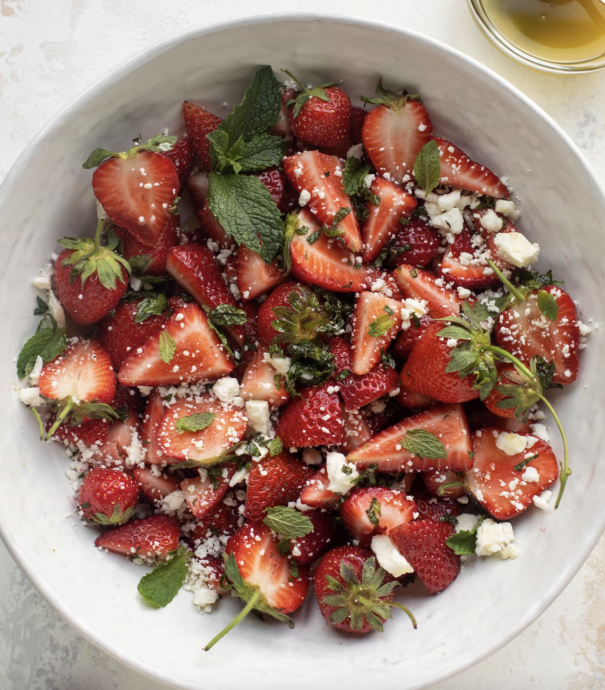 This strawberry feta salad has lots of freshly ground black pepper, fresh mint and a champagne vinaigrette. It's simple, easy, refreshing, sweet and savory. Perfect for a side dish or easy summer snack!
Say hello to your new favorite way to eat strawberries! This little dish is SUPER SIMPLE. It's a lovely way to enjoy some strawberries as a quick side salad or even as a snack. I like to slice the berries, sprinkle them all over with freshly ground black pepper and a pinch of salt, then crumble some feta cheese on top.
Next, I whisk together a quick champagne vinaigrette with finely chopped fresh mint. The mint infuses this easy vinaigrette and it is so incredibly refreshing and flavorful. Complements the sweetness of the berries, the bite of the pepper and creaminess of the cheese so much.
Then I toss it all together. THAT IS IT. Maybe add some extra fresh mint leaves for garnish.
Ingredients:
3 cups fresh strawberries, sliced or quartered
freshly ground black pepper
kosher salt
¼ cup crumbled feta cheese
1 tablespoon champagne vinegar
¼ cup extra virgin olive oil
2 tablespoons chopped fresh mint leaves
fresh mint leaves for garnish