Instant Pot Spaghetti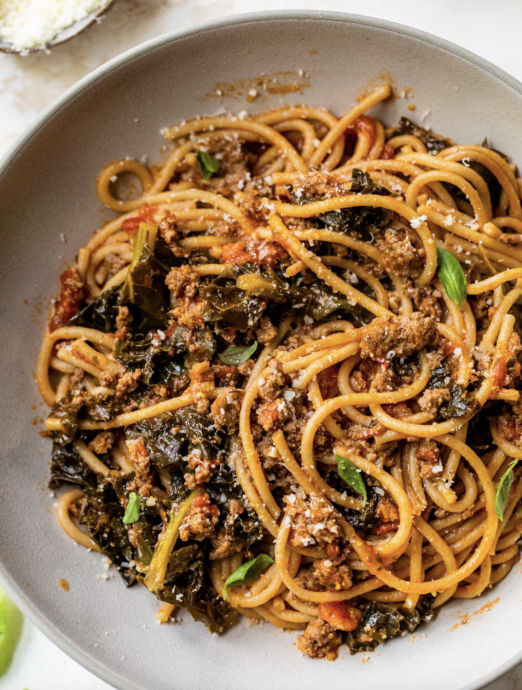 This shortcut Instant Pot Spaghetti tastes so much more than the sum of its parts. Made with lean ground beef, whole wheat noodles, and jarred sauce, we could not get over how a recipe this easy could be so utterly delicious.
While I'll ever be a fan of spaghetti and Baked Turkey Meatballs, cooking spaghetti in a pressure cooker like the Instant Pot has distinct advantages.
In fact, I'd argue Instant Pot spaghetti tastes better than stovetop spaghetti. Here's why:
As the pasta noodles cook, they release starch.
Since the water isn't drained off when making pasta in a pressure cooker, those starches become a part of the sauce, making it thick and silky.
Everything for Instant Pot spaghetti cooks in ONE POT (including both the pasta and the meat sauce).
The cook time is quick
The taste is supreme.
Ingredients:
1 tablespoon extra-virgin olive oil
1 pound lean ground beef ground bison, or meatless crumbles
1 teaspoon kosher salt
1 tablespoon dried parsley
1 teaspoon onion powder
1/4 teaspoon red pepper flakes
3 cloves garlic minced, about 1 tablespoon
4 cups chopped kale chard, or other hearty greens (optional)
2 cups water divided
1 (24-ounce) jar marinara or other tomato-based pasta sauce
8 ounces dry whole wheat spaghetti
1/3 cup grated Parmesan cheese plus additional for serving
Chopped fresh basil or parsley for serving