Blue Cheese and Walnut Quiche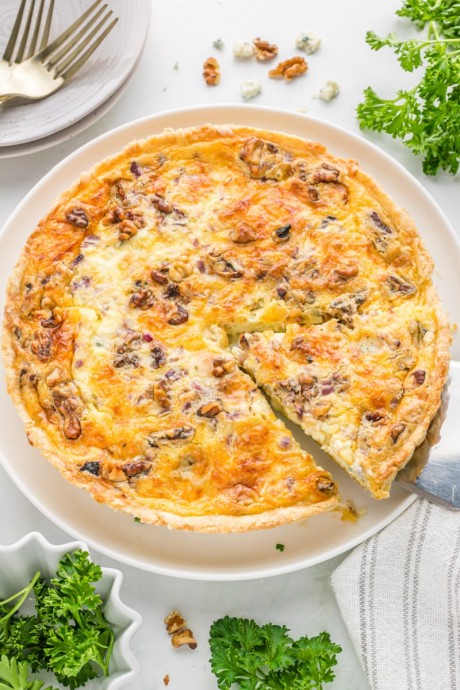 This Blue Cheese and Walnut Quiche is a delicious quiche recipe with unique flavors of blue cheese and walnuts mixed into the egg custard.
I know what you're thinking. This quiche is really different, and there usually aren't things like blue cheese and walnuts in a quiche recipe. You're right! This is a fabulous quiche recipe because it's different. I love the flavors in this one. If you're making several quiches for a party or event, be sure to include this unique recipe for blue cheese and walnut quiche too!
Swiss cheese and blue cheese are a neat combination of cheesy flavors. There's a little crunch in there from the included walnuts too. Enjoy!
Ingredients:
1 pie crust (store bought or homemade)
3 large eggs
2 tablespoons all purpose flour
¼ teaspoon freshly grated nutmeg
½ teaspoon salt
½ teaspoon white pepper
1 cup heavy whipping cream
½ cup milk
2¼ cups grated Swiss or Gruyere cheese
½ cup crumbled blue cheese
2 tablespoons minced red onion
¼ cup chopped walnuts