One Pot Lasagna Soup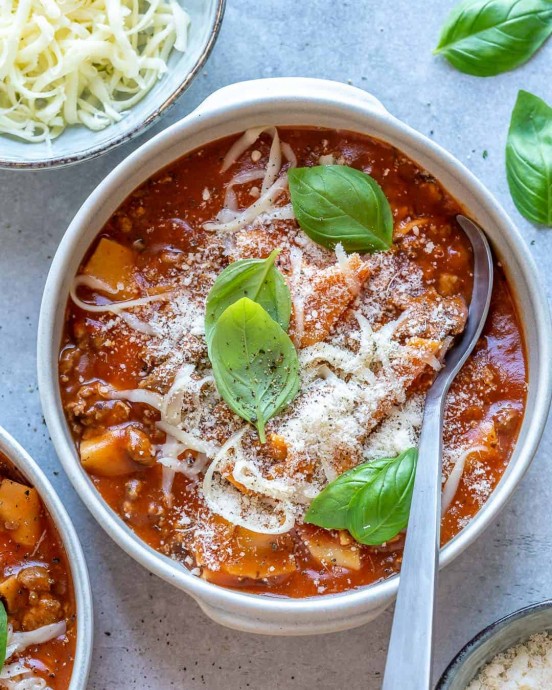 This easy One Pot Lasagna Soup Recipe is everything you love about lasagna – in soup form! Lasagna is a delicious yet complicated dish that requires lots of dishes and layering. But this easy Lasagna soup recipe is just as tasty with much less work. It is made with tomatoes, ground meat, broth, and lasagna noodles, then topped with cheese to finish it off. With a very little cleanup, this is the perfect winter soup for any busy family.
Why you should make this soup? First of all, it is so easy to cook everything all in one pot, plus the clean-up is minimal. Secondly, everyone loves it. Adults, kids, and even picky eaters like this soup. It will become a family favorite. Third, it's versatile. There are plenty of ways to make this soup right for any dietary preferences. Plenty of substitutions make it perfect for anyone. You can substitute the beef broth with chicken broth or vegetable stock. Substitute the lasagna pasta for whole-grain or gluten-free pasta. You can also use orzo, rice pasta, quinoa, or zucchini noodles. Adjust the cooking time depending on the pasta you choose. This recipe is made without ricotta cheese. You can add ricotta if you would like. You can also substitute the mozzarella with a vegan mozzarella or other vegan cheese.
You can store the soup in an air-tight container and freeze for up to 3 months. Thaw overnight in the fridge or on the counter for several hours. Reheat on the stove or in the microwave. This comforting bowl of cheesy soup (made without ricotta cheese) is fast and easy, perfect for a busy weeknight dinner.
Ingredients:
1 tbsp extra-virgin olive oil
1 onion chopped
1 lb lean ground beef
2 garlic cloves crushed
2 tbsp gluten-free flour
2 tbsp tomato paste
14.5 oz tomato sauce one can, or tomato passata
5 cups beef broth
5 dried lasagne sheets
2 tbsp milk
¼ cup parmesan cheese finely grated
Handful fresh basil leaves keep some to garnish
2 tbsp fresh curly parsley
½ cup mozzarella cheese grated