Keto Italian Pasta Salad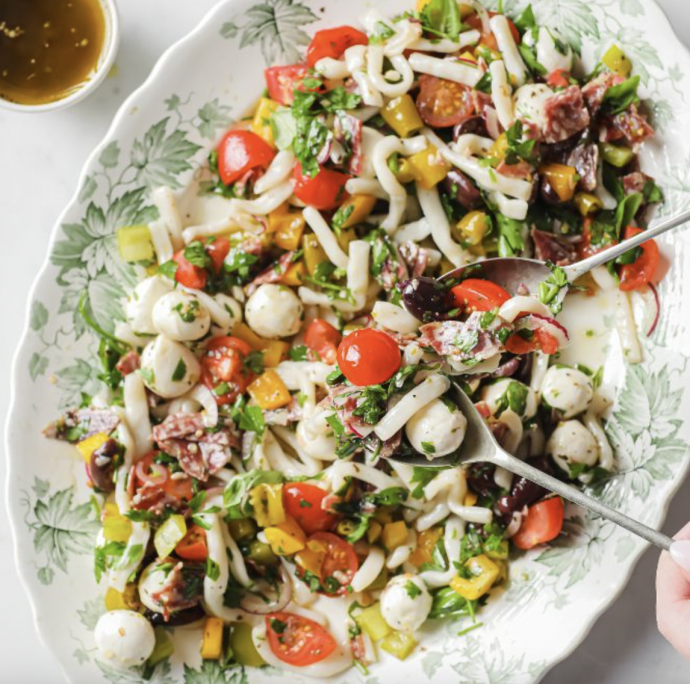 This Keto Italian Pasta Salad is filled with fresh flavors, but without all the carbs of a traditional pasta salad. Just 5 net carbs per serving which is perfect for those on a low carb and/ or keto diet!
There's something iconic about a good pasta salad for summer. When you're on a low carb or ketogenic diet, you may think it's not something you can enjoy since it's typically made with refined wheat or white flour pasta. But with a little tweak in the choice of pasta, you can enjoy this delicious Italian Pasta salad too!
This Low Carb Italian Pasta salad is a no cook recipe, meaning it's super easy to prepare and ready in just 10 minutes. I love to serve it at a bbq or take on a picnic. It's also great as a quick lunch or healthy keto dinner.
Ingredients:
7 ounces Slim penne pasta (or palmini) drained + rinsed well
¾ cups cherry tomatoes cut in half
½ cup yellow pepper cubed
3.5 ounces salami (or prosciutto), sliced
⅓ cup kalamata olives pitted, sliced
¼ cup pepperoncini sliced
¼ small red onion thinly sliced
¼ cup fresh parsley chopped
3.5 ounces mozzarella fresh mini mozzarella balls, drained
Italian Dressing
5 tablespoon extra virgin olive oil
1 tablespoon vinegar red wine
¼ teaspoon salt (or to taste)
1 clove garlic minced
½ teaspoon dried oregano ground
½ teaspoon dried basil ground
¼ teaspoon black pepper cracked (or to taste)
optional: powdered sweetener to taste