Moroccan Orange Sheet Pan Chicken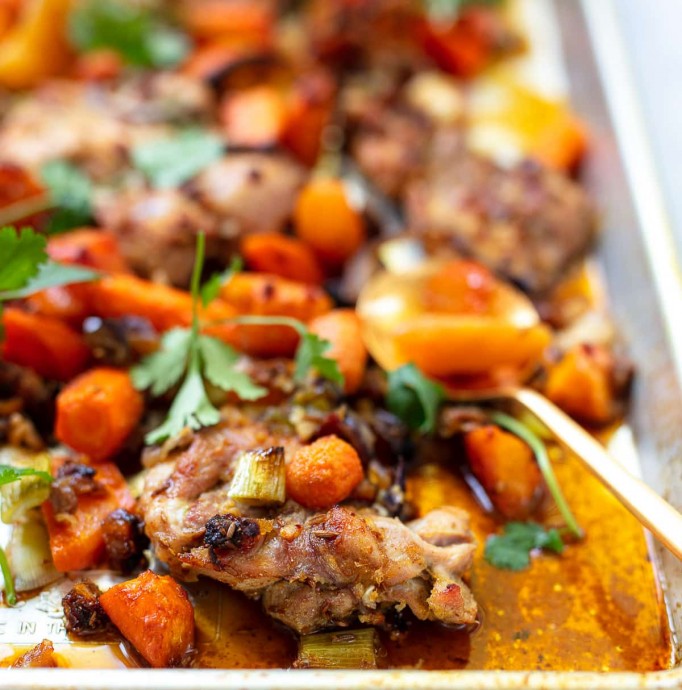 A flavorful sheet pan chicken that makes a great, easy weeknight meal. Boneless chicken thighs are seasoned with North African spices, carrots and fresh orange. This is a quick and easy dinner recipe your family will love. Serve along with buttered couscous and homemade harissa paste for a delicious dinner.
This tasty recipe is inspired by the flavors of a classic Moroccan chicken tagine, only it's made much simpler by cooking on a sheet pan. Essentially, a true tagine is a type of stew slow-cooked in a clay pot. It's a homestyle North African dish based on meat, seafood and/or vegetables, with complex flavors that come from a combination of bold herbs, spices and citrus. I'm a fan of sheet pan chicken thighs – they're tasty, cook quickly and stay juicy after roasting. If you prefer, use boneless, skinless chicken breasts instead. Choose breasts that are about 6 ounces each and bake as directed.
This dish is perfect for those "too tired to cook" nights. The best part about this recipe is letting the oven to do the work, ideally while you pour a glass of wine and relax for a few minutes. And, since most of the work for a good sheet pan meal is prep, cleanup is minimal.
Ingredients:
2 pounds (1 kg) boneless, skinless chicken thighs
1/2 red onion, thinly sliced
1 pound (450 g) peeled carrots, cut into 1 1/2-inch chunks
1 navel orange or 2 small tangerines, cut into 2-inch wedges
3 green onions, white and green parts sliced 1/2-inch thick
2 garlic cloves, sliced
2 pitted Medjool dates, finely chopped
1 2- inch knob ginger, peeled and grated
1/4 cup (60 ml) extra-virgin olive oil
2 teaspoons cumin seeds
2 teaspoons ground coriander
1 1/2 teaspoons kosher salt
1/2 – 1 teaspoon crushed red chili flakes
1/2 cup (8 g) fresh cilantro, mint or parsley leaves