Tomato, Corn, and Basil Salad Recipe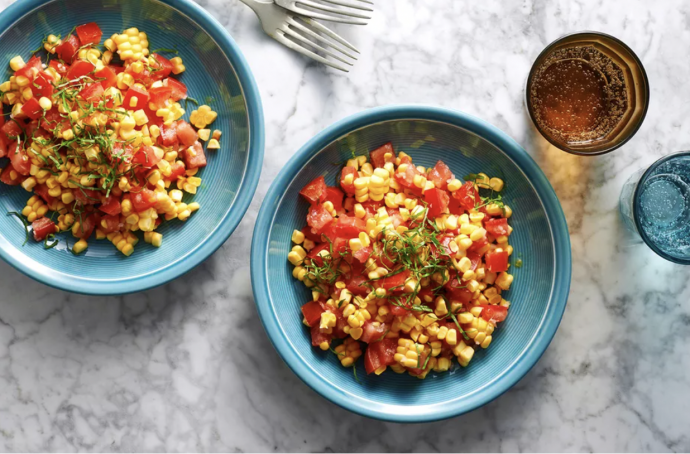 Keep things light and easy with this no-cook salad filled with fresh, juicy tomatoes, crunchy corn, and peppery basil. It's the ultimate, no-sweat side dish for grilled meat or fish.
Use only the freshest, sweetest corn for this recipe. The kind that's so tender and sweet you can eat it raw—it isn't being cooked for this recipe. Yes, you can safely eat corn raw, and this salad takes full advantage of its ultra-sweetness by pairing it with bright, acidic tomatoes. Use ripe, high-quality tomatoes for the best results. Add fresh basil and you have a very summery combination. This salad packs well and is good for cookouts, picnics, and more.
If you have cucumbers handy, try a tomato, cucumber, and corn salad instead. Or if you're grilling anyway, you might enjoy a grilled corn salad.
Ingredients
1 tablespoon extra-virgin olive oil, or vegetable oil
1 teaspoon apple cider vinegar, or white wine vinegar
1/4 teaspoon fine sea salt
1/4 shallot, or 1/4 small red onion
3 ears corn
3 medium tomatoes
2 sprigs basil